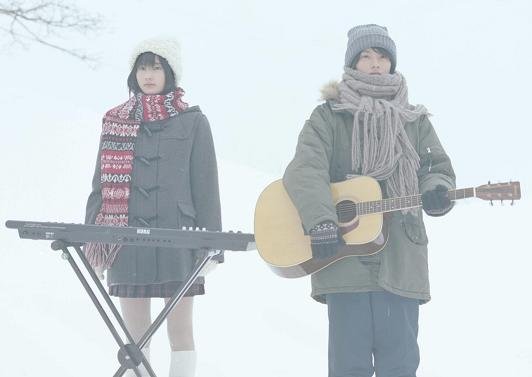 A song by rock band Galileo Galilei is being turned into a live-action movie, titled Kanseitou (Control Tower). The film will star 16-year-old Yamazaki Kento (Clone Baby, Atami no Sousakan) and 14-year-old Hashimoto Ai (Kokuhaku).
Galileo Galilei formed in 2007 but made their major label debut in February 2010 with the mini-album Hamanasu no Hana. Most recently, they have been getting attention with their upcoming single Boku Kara Kimi e, which is currently used in commercials for Shinken Zemi Koukou Kouza.
The song that is being adapted to film is also titled Kanseitou. It was the first one ever written by Galileo Galilei's vocalist/guitarist Ozaki Yuuki, released on CD only during the band's indie days. The song will naturally be used as the movie's theme song, so it will likely be re-released in the future.
Director Miki Takahiro (Solanin) heard the song during a live performance, and he was immediately inspired to turn it into a movie. The song revolves around the 100th Year Memorial Tower in Wakkanai, Hokkaido, treating it as a tower that watches over the lives of the people around it, as they deal with their hopes and uncertainties for the future.
The Kanseitou movie was shot entirely in Wakkanai. The story follows a young boy named Kakeru (Yamazaki) and a lonely transfer student named Mizuho (Hashimoto) who form a band and try out for an audition.
Theatrical release is scheduled for this spring.
Source:
Sports Nippon
Natalie