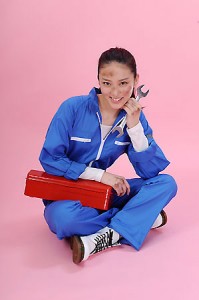 Fashion model and actress Takei Emi (17) has been given her first starring role in a television drama series, with a show tentatively titled "Asukou March!" The drama is a live-action adaptation of Kaori Akiyama's manga "Asukou March! ~Kenritsu Asuka Kougyou Koukou Koushinkyoku~," which currently runs in Shueisha's magazine YOU.
Takei plays Nao Yoshino, a girl who fails the entrance exams of her target high school. She winds up enrolling in a technical high school called Kenritsu Asuka Kougyou Koukou, also known by the nickname "Asukou." Out of the 148 entering freshmen, only three are girls, and Nao is the only one in her class.
The supporting cast for the show has not yet been revealed. The series will start in April, in TV Asahi's Sunday 11:00pm time slot.
Takei has been a model for SEVENTEEN since 2006. As an actress, she has appeared in a handful of dramas, including the currently airing "Taisetsu na Koto wa Subete Kimi ga Oshiete Kureta" on Fuji TV.