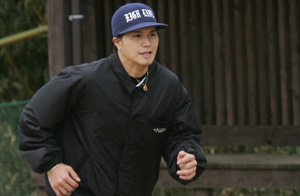 Production has been announced for a new action film called "DOG x POLICE," starring Ichihara Hayato (24). Ichihara's character will be a policeman named Hayakawa Yusaku, sharing the same name and general personality as the rescue team member he played in the drama special "252 Seizonsha Ari: episode ZERO."
The Hayakawa Yusaku in "DOG x POLICE" is part of a police division that deals with relief missions for natural disasters and major crimes like terrorism. He serves as a trainer for an Albino Shepherd named Shiro, one of a special class of police dogs that are trained for tasks such as disaster relief and suspect apprehension, rather than more common tasks such as substance detection.
Japan's police force is said to only have 13 of these dogs, which have been sent to help out with relief efforts for the big earthquakes in Niigata (2004) and Sichuan (2008). Currently, three of them are in Christchurch, New Zealand, in response to the major earthquake there.
"DOG x POLICE" is an original story drafted by Komori Yoichi, who wrote the screenplay for the "252 Seizonsha Ari" movie and is credited for the story behind the "Umizaru" series. The producer is NTV's Sato Takahiro ("Death Note," "GANTZ"), and the director is Shichitaka Go, who was involved with Ichihara's drama series "Saru Lock."
The movie is currently scheduled for release on October 1, 2011.
Sources:
Cinema Today
Sports Hochi