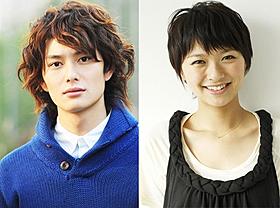 Movie distributor Shochiku introduced its 2011-2012 lineup at an event in Tokyo on Thursday. A total of 17 films were announced; 11 of them were domestic live-action works, 4 were movies for popular anime series, and 2 were foreign films.
The four animated films were for "Sengoku BASARA" (June 4), "Fullmetal Alchemist" (July 2), "Prince of Tennis" (fall), and "K-On!" (December 3).
One of the newly revealed properties on Shochiku's roster is the tentatively titled "Okaeri, Hayabusa," a 3D film directed by Motoki Katsuhide about the unmanned space probe Hayabusa that returned to Earth last June after its 7-year, 6 billion-kilometer mission. This is actually the second movie about Hayabusa in the works. Last month, Toei also announced its plans to release a movie about the probe in 2012.
Other movies in the lineup include: