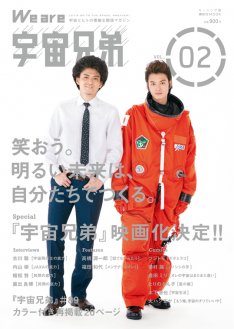 The Florida Today newspaper reports that the movie "Uchuu Kyoudai" ("Space Brothers") will have some scenes filmed at the Kennedy Space Center in Florida next month. As noted by Anime News Network, the article does not specifically say whether lead actors Oguri Shun and Okada Masaki will be there, but it mentions that the film crew will be shooting "with the stars of 'Space Brother' and a group of local acting extras."
Based on an award-winning manga by Koyama Chuya, "Uchuu Kyoudai" tells the story of two brothers who make a promise as kids to become astronauts when they grow up. While the younger brother Hibito (Okada) achieves that goal, the older brother Mutta (Oguri) takes a different route as an engineer, until one day when he loses his job.
The casting of Oguri and Okada was announced in March. The rest of the cast has not been officially revealed.
According to the Florida Today article, the movie "will include 15 to 20 minutes of scenes shot in Brevard County," where the Kennedy Space Center is located. The crew will be shooting for six days in June, though they will also be there for another week to do "preparation and follow-up work."
"Uchuu Kyoudai" is planned for release in spring 2012.
Sources:
Anime News Network
Florida Today