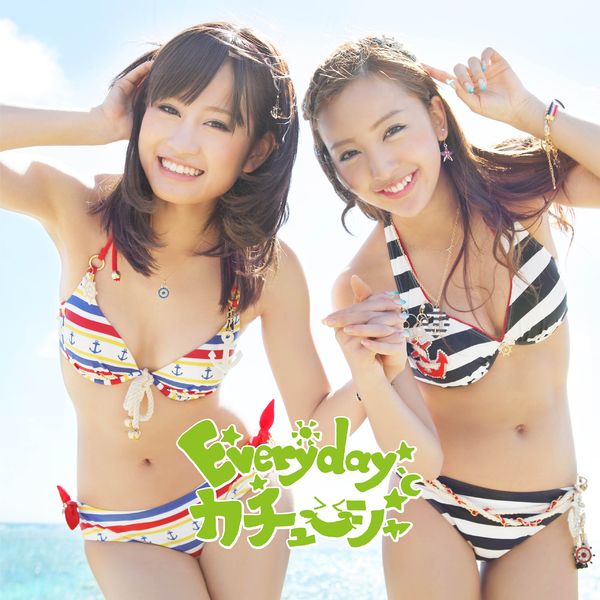 AKB48's 21st single, "Everyday, Kachusha," is on its way to becoming the group's biggest hit yet. Their previous single "Sakura no Ki ni Narou" sold 942,479 copies in its first week, but Oricon reports that "Everyday, Kachusha" has sold a staggering 942,475 copies on its first day alone.
Record stores were prepared for the onslaught, as 1.45 million copies went out with the single's first shipment, compared to 1.10 million copies for "Sakura no Ki ni Narou."
As long as the sales numbers for the rest of the week keep up, "Everyday, Kachusha" will likely set some new records. The first-week sales of "Sakura no Ki ni Narou" already ranks as the 6th highest in history, but AKB48 now has a chance to become 1st. As it stands, the top five are:
AKB48 are almost guaranteed to finish the week at #2 (and #1 for a female artist), but taking #1 will depend on their remaining momentum. Fortunately, they also happen to be in the middle of a concert revival series and their 3rd Senbatsu election (for their 22nd single), which means that sales will likely continue to be strong.
Speaking of the Senbatsu election, the votes have been counted for the first day. As of the announcement on May 25, tens of thousands of votes have already been cast, with the largest amount going to last year's winner, Oshima Yuko. At 17,156 votes, she has a margin of roughly 700 votes over last year's #2, Maeda Atsuko (16,452 votes). Kashiwagi Yuki, who ended up at #8 last year, is currently in 3rd with 12,056 votes.
The top 40 after the first day are listed below, with last year's positions (up to #40) in parentheses.
Voting will end at 3:00pm on June 8, and the results will be announced at the Nippon Budokan on June 9.
Sources:
Oricon
Sponichi Annex
Natalie