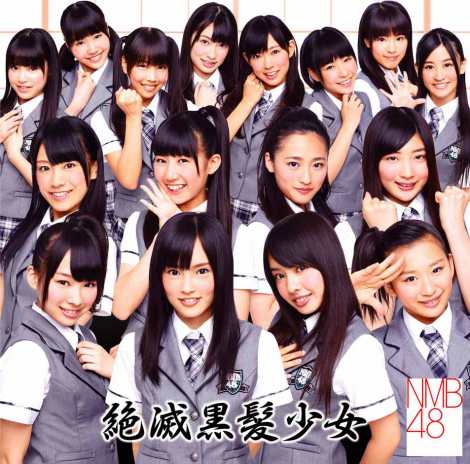 AKB48's Osaka-based sister group NMB48 released their debut single "Zetsumetsu Kurokami Shoujo" last week, and it made it to the top of the weekly charts at 218,000 copies sold. This is a new record for first week sales by a female artist's debut single (not including soloists or sub-units of an existing group), surpassing Sawajiri Erika's "Taiyou no Uta" (150,000) in 2006.
NMB48 is only the second female group to reach #1 in the first week with a debut single, after idol group PASSPO☆ did so in May.
JUJU topped the album rankings for the second week in a row with "YOU," selling 71,000 copies.
Meanwhile, Lady Gaga's "Born This Way" reached 510,000 total copies sold in its 9th week, surpassing Shoujo Jidai's "GIRLS' GENERATION" (502,000) for best-selling album by a foreign artist in 2011. She now has two consecutive original albums that have sold half a million each, making her the first foreign artist to achieve that since Avril Lavigne in 2007.
Lady Gaga – Born This Way – 30,720
TUBE – RE-CREATION – 25,859
Arashi – Beautiful World – 25,742
Shoujo Jidai – GIRLS' GENERATION – 21,093
Nishino Kana – Thank you, Love – 12,908
Che'Nelle – Love Songs – 10,170
Aoki Ryuji – Lien – 10,121
40mP feat. Hatsune Miku – Chiisana Jibun to Ookina Sekai – 9,286
Superfly – Mind Travel – 9,232
On the DVD charts, AKB48's "AKB ga Ippai ~The Best Music Video~" ranked #3 and sold 10,000 more copies, putting its total sales to date at 324,000. Earlier this month, it became the best-selling music video DVD ever by a female artist, but now it also holds the record for best-selling music DVD (counting concert DVDs) by a female artist. The previous record was held by Koda Kumi's 2005 release "secret ~FIRST CLASS LIMITED LIVE~" at 322,000 copies.
Sources:
Oricon (weekly single ranking)
Oricon (weekly album ranking)
Oricon
Oricon
Oricon
Oricon