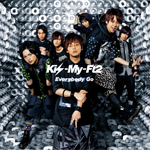 Oricon has revealed its sales rankings for 2011, and in the new artist category, Kis-My-Ft2 ranked #1 at approximately 1.47 billion yen. They are the first Johnny's artist to become the #1 new artist on the yearly charts since KAT-TUN in 2006 (6.66 billion yen).
Kis-My-Ft2 released their debut single "Everybody Go" in August, and it ranked #10 for the year at 442,000 copies sold. Their two DVDs released in October achieved a total of approximately 212,000 copies sold. In total, these three works sold 654,000 copies for 1.47 billion yen in sales.
The #2 and #3 new artists were Korean groups 2PM (990 million yen) and SHINee (870 million yen), respectively.
Source:
Oricon