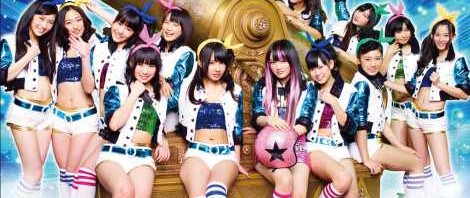 Idol group NMB48 topped the charts this week with their 3rd single, "Junjou U-19," selling more than 329,000 copies. The group now has a streak of 3 consecutive #1 singles starting with their debut, becoming the first female artist ever to achieve that (not counting soloists or sub-units from existing groups). Until now, the longest streak starting with a debut was 2, first achieved by Yakushimaru Hiroko in 1983 and duplicated by Sawajiri Erika in 2007.
L'Arc~en~Ciel took #1 on the album charts with 171,000 copies of their 12th original album, "BUTTERFLY." This is the band's 8th number-one album, though their last one was more than 4 years ago in 2007.
L'Arc~en~Ciel – BUTTERFLY – 170,855
Ayaka – The beginning – 35,241
Van Halen – A Different Kind of Truth – 32,171
YUKI – POWERS OF TEN – 20,958
Yuki Saori & Pink Martini – 1969 – 19,351
EXILE – EXILE JAPAN / Solo – 14,020
Various Artists – TV Anime "TIGER & BUNNY" Character Song Album "BEST OF HERO" – 13,921
moumoon – No Night Land – 12,733
In DVDs, Koda Kumi sold 25,000 copies of her "KODA KUMI LIVE TOUR 2011 ~Dejavu~," ranking #1 on the charts. She also set a new record for "most consecutive years with a #1 on the music DVD charts," with a span of 8 years (2005-2012). For the moment, this puts her ahead of Mr.Children, who currently have a streak of 7 years (2005-2011).
Among solo artists, the DVD gives Koda the record of "most #1s on the music DVD charts" (9), surpassing Takizawa Hideaki (8). Koda is also now tied with Utada Hikaru for "most #1s on the general DVD charts" (8).
Sources:
Oricon (weekly single ranking)
Oricon (weekly album ranking)
Oricon
Oricon
Oricon