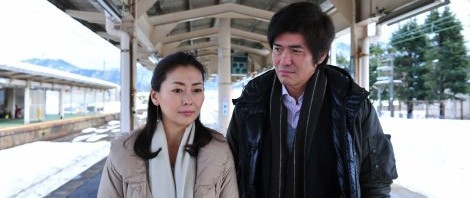 Actress Nakayama Miho (41), also known by the nickname "Miporin," will act in her first television drama since 10 years ago. She will co-star with actor Sato Koichi (51) in a drama special tentatively titled "Shuchakueki ~Twilight Express no Koi~."
Nakayama was one of the more popular actresses of the 1980s and 1990s, but she has not had a television drama role since the series "Home & Away" in late 2002. After that, she put her show business career in Japan on hold and moved to France after marrying writer Tsuji Hitonari. In 2009, she made her comeback as an actress in the movie "Sayonara Itsuka," based on a novel by Tsuji.
The drama is set on the Twilight Express, Japan's longest overnight train service, which runs approximately 22 hours between Osaka and Sapporo. Nakayama and Sato play Chie and Keisuke, two lovers who have decided to part ways at the end of the journey. Chie already has a family but has been carrying on a passionate, secret affair with Keisuke. The story mainly takes place in their suite room on the train.
The drama was filmed aboard the actual Twilight Express with cooperation from the JR West company, which operates the train service.
TBS will broadcast the special on March 20 at 9:00pm.
Source:
Oricon