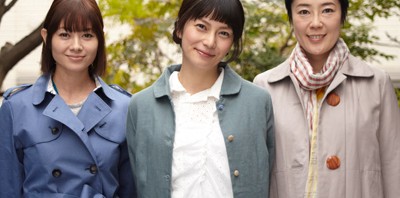 Masuda Miri's popular four-panel manga series "Su-chan" is being adapted as a theatrical film, starring Shibasaki Kou (30), Maki Yoko (29), and Terajima Shinobu (39). The movie will be titled "Su-chan Mai-chan Sawako-chan" and will focus on three of the main characters from the manga.
Published by Gentosha since 2006, the "Su-chan" series has so far sold a total of more than 280,000 copies, with a following mainly among women in their 30s and 40s. The series follows the daily lives of several women as they deal with work, love, and friendship. The movie will be based on three of the books in the series, including the first one released in 2006.
The three main female characters in the movie are friends who once worked together at a part-time job. Shibasaki will play the lead character Su-chan, a 34-year-old who has been working as a cafe employee for more than 10 years and who has feelings for her manager (played by actor Iura Arata, formerly known as ARATA). Maki will play Mai-chan, a 34-year-old office worker who is carrying on an affair. Terajima will play the 39-year-old Sawako-san, a web designer who, together with her mother, takes care of her elderly grandmother.
Young actor Sometani Shota will play one of Su-chan's cafe co-workers who has feelings for her.
Filming started in mid-March and will continue into April. Minorikawa Osamu ("SOUL RED: Matsuda Yusaku") is directing. Release is scheduled for 2013.
Sources:
Cinema Today
Sports Hochi