Best Selection 2010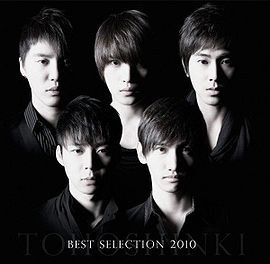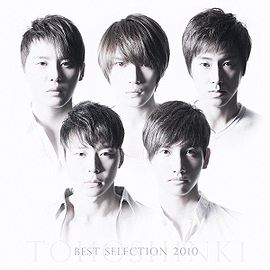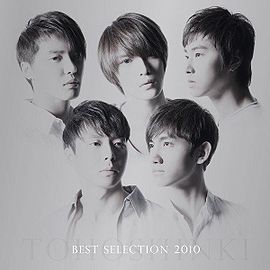 Artist

Album

BEST SELECTION 2010

Released

2010.02.17

Catalog Number

RZCD-46503~4/B (2CD+DVD)
RZCD-46505//B (CD+DVD)
RZCD-46506 (CD only)

Price

¥5,040 (2CD+DVD)
¥4,200 (CD+DVD)
¥2,800 (CD only)

CD1 Tracklist
CD2 Tracklist
"2CD+DVD" DVD Tracklist
TRICK (1st TOUR ~ 4th TOUR)
Rising Sun (1st TOUR ~ 4th TOUR)
'O'-Sei・Han・Gou- (1st TOUR ~ 4th TOUR) ('O'-正・反・合-)
Stay With Me Tonight (1st TOUR ~ 4th TOUR)
Choosey Lover (1st TOUR ~ 4th TOUR)
Begin (1st TOUR ~ 4th TOUR)
HUG (1st TOUR ~ 4th TOUR)
Asu wa Kuru Kara (1st TOUR ~ 4th TOUR) (明日は来るから)
ZION (1st TOUR ~ 4th TOUR)
Break up the shell (1st TOUR ~ 4th TOUR)
High Time (1st TOUR ~ 4th TOUR)
Purple Line (1st TOUR ~ 4th TOUR)
Jumon -MIROTIC- (1st TOUR ~ 4th TOUR) (呪文)
The Way U Are (1st TOUR ~ 4th TOUR)
Survivor (1st TOUR ~ 4th TOUR)
Somebody To Love (1st TOUR ~ 4th TOUR)
Off Shot Movie (First Press Only)
"CD+DVD" DVD Tracklist
TOHOSHINKI KARAOKE SELECTION
Information
BEST SELECTION 2010 is Tohoshinki's first Best album. It was released in three editions, CD Only, CD+DVD and 2CD+DVD. The second CD of the 2CD+DVD edition contains a song selection made by Tohoshinki members themselves, the digital single "Amaku Hateshinaku", the unreleased CM song "Toki wo Tomete", "BREAK OUT!", and the new song "With All My Heart ~Kimi ga Odoru, Natsu~", which was used as theme song for the movie Kimi ga Odoru Natsu.
The three editions come with a 24 page booklet and one (of six) random jacket size photocards. First press of the CD Only edition comes with a 36 page booklet, instead of 24 page.
With this album Tohoshinki broke another first week sales record (first one being with "BREAK OUT!" single). The album become the most sold album in its first week by a foreign group. The record was formerly held by Bon Jovi's These Days album for 14 years 9 months with 379,000 copies sold.
The album sold 21,089 copies in Korea, becoming the second best-selling album of the year on the 2010 Gaon Overseas Album chart, after Sarah Brightman's Diva: The Singles Collection.
Oricon Chart Positions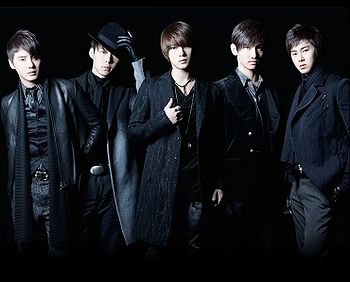 | Mon | Tue | Wed | Thu | Fri | Sat | Sun | Week Rank | Sales |
| --- | --- | --- | --- | --- | --- | --- | --- | --- |
| - | 1 | 1 | 1 | 1 | 1 | 1 | 1 | 412,861 |
| 1 | 4 | 3 | 2 | 2 | 3 | 2 | 2 | 46,935 |
| 2 | 9 | 6 | 7 | 5 | 5 | 6 | 6 | 23,076 |
| 6 | 20 | 16 | 14 | 14 | 12 | 12 | 16 | 12,216 |
| 9 | 22 | 21 | 17 | 18 | 12 | 14 | 17 | 8,752 |
| 10 | 36 | 26 | 25 | 19 | 20 | 19 | 21 | 7,241 |
| 14 | 27 | 22 | 21 | 20 | 21 | 12 | 21 | 5,706 |
| 5 | 17 | 15 | 14 | 13 | 13 | 13 | 14 | 7,494 |
| 15 | 24 | 25 | 29 | 16 | 23 | 21 | 21 | 4,474 |
| 20 | - | 48 | 40 | 37 | 42 | 32 | 43 | 3,515 |
| 26 | 44 | - | 30 | 22 | 23 | 21 | 28 | 3,435 |
| 18 | 28 | - | 24 | 16 | 29 | 24 | 27 | 3,295 |
| 20 | 45 | 48 | 39 | 37 | 37 | 37 | 41 | 2,076 |
| 24 | - | 40 | 46 | - | 40 | - | 48 | 1,591 |
| 27 | - | - | - | - | - | - | 74 | 1,691 |
| 35 | - | - | - | - | - | - | 75 | 1,312 |
| - | - | - | - | 45 | 50 | 48 | 66 | 1,510 |
| 27 | 43 | 47 | 32 | 41 | 33 | 42 | 41 | 2,130 |
| 29 | - | - | - | - | - | - | 73 | 1,947 |
| - | - | - | - | - | - | - | 62 | 1,901 |
| - | - | - | - | - | - | - | 82 | 1,635 |
| - | - | - | - | - | - | - | 84 | 1,361 |
| - | - | - | - | - | - | - | 103 | 1,287 |
| - | - | - | - | - | - | - | 112 | 1,129 |
| - | - | - | - | - | - | - | 168 | 749 |
| - | - | - | - | - | - | - | 170 | 794 |
| - | - | - | - | - | - | - | 77 | 1,527 |
| - | - | - | - | - | - | - | 106 | 1,307 |
| - | - | - | - | - | - | - | 119 | 988 |
| - | - | - | - | - | - | - | 117 | 908 |
| - | - | - | - | - | - | - | 132 | 872 |
| - | - | - | - | - | - | - | 163 | 870 |
| - | - | - | - | - | - | - | 190 | 599 |
| - | - | - | - | - | - | - | 151 | 775 |
| - | - | - | - | - | - | - | 182 | 570 |
| - | - | - | - | - | - | - | 200 | 542 |
| - | - | - | - | - | - | - | 279 | 459 |
Total Reported Sales: 569,530 (#7 album of 2010)
External Links