It is thanks to users like YOU that Generasia exists today. To all of our contributors and visitors alike, Thank You!! Be sure to like us on Facebook for the latest updates and to meet others who also enjoy Asian media!
MAXIMUM THE HORMONE
From generasia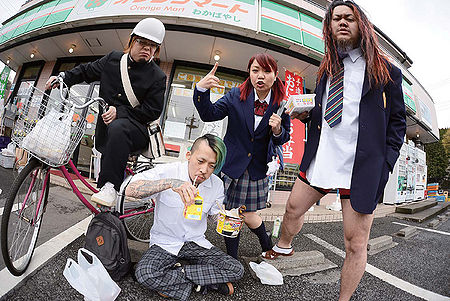 MAXIMUM THE HORMONE (マキシマムザホルモン) is a Japanese metal punk band. They debuted in 1999 with the album A.S.A. Crew. Currently they are under the label VAP.
Members
Former Members
Information
MAXIMUM THE HORMONE originated in Hachiōji, Tokyo in 1998, co-founded by Tsuda Daisuke and Kawakita Nao. After gaining recognition through smaller performances, they soon signed with indie label Sky Records. Under this label they recorded their first album, A.S.A. Crew, the only album to feature former guitarist and bassist respectively, Sugi and Key. These two would part from the band in late 1999.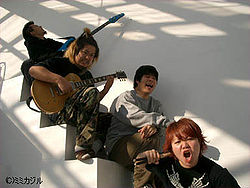 Filling the recently vacated position on guitar would be Kawakita Ryo, the younger brother of founding member Kawakita Nao, and Uehara Futoshi would take over the position of bassist, rounding out the band. Upon the change in members came a change in sound, as vocals would now be split between both Daisuke and Ryo. Daisuke would do the screaming and rap vocals, while Ryo would take over the melodic vocals. Upon this major change, the band decided upon more japanese oriented roots in their music, where previously, the majority of their lyrics were in English. Ryo would also now take over the majority of composition of later work. The band released their first single with the new lineup, "Bullpen Catcher's Dream", in 2000, and their first EP, Ootori, in 2001.
In 2002, the band would leave Sky Records and sign with independent label 33cjl Records. They would soon release a new single, "Niku Cup" on May, 29, 2002, and soon following, a new album, Mimi Kajiru, on October 10 of the same year. They would release one more maxi single, "Enzui Tsuki Waru", in 2003, before gaining recognition by major record label VAP, through their third full-length album, Kusoban, released on January 21, 2004. They signed to VAP later that year.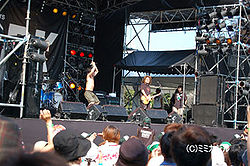 MAXIMUM THE HORMONE would continue to record more traditionally after signing to a major record label in late 2004. They released two singles in the second half of the year. "Rock Bankurawase / Minoreba Rock", was released on June 23, 2004 and "Houchou Hasami Cutter Knife Dosu Kiri / Rei Rei Rei Rei Rei Rei Rei Rei Ma Ma Ma Ma Ma Ma Ma Ma", was released later that year, on November 25, 2004. The band soon released their fourth full-length album Rokkinpo Goroshi, on March 2, 2005. This album was met with a surge in fan base for the band, due to their increasingly popular singles, the development in their distinct sound, and nationwide touring done by the band, playing nearly 50 locations, including Rock in Japan Festival 2005. The song featured in one of their previous singles, "Rolling 1000toon", was featured as an ending theme for the anime Air Master.
The fallout of 2005 would show MAXIMUM THE HORMONE releasing their first live DVD, Debu Vs. Debu., compiling many of their live performances and music videos from the past year. The band released a new maxi single, simultaneous of their nationwide touring, Zawa...Zawa...Za..Zawa......Zawa, on November 16, 2005. Two of the songs from this single would be used for as themes for anime. "What's up, people" would be used as one of the opening themes for the popular anime Death Note, while the song Akagi would be used as the ending theme for the anime of the same name.
2006 would hold breakout commercial success for the band, first with the release of their seventh maxi single "Koi no Megalover", on July 5, 2006. The single became the band's first Oricon top ten hit, reaching a peak of nine. This single would mark the band's introduction to the mainstream media in Japan. Along with a string of successful singles, the band's exposure increased with a performance at the international rock festival Summer Sonic 2006, featuring a number of prominent western bands.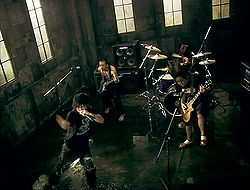 Capitalizing on the widespread success of their previous singles, their fifth full-length album, Buiikikaesu, was released on March 14, 2007, and would become their most popular album to date. The album peaked at number five on the Oricon charts, and was certified gold in by the RIAJ in Japan. One more of the songs on this album would be featured in anime. The song "Zetsubou Billy" would be featured as an ending theme for the anime Death Note. The band would embark on another nationwide tour, performing 57 shows in 2007, and over 100 shows including festivals such as Summer Sonic 2007 and Punk Spring 2007, selling out all venues. At the end of the year, the band would win an award for "Best Conceptual Video" from the SPACE SHOWER Video Music Awards 2008 for "Zetsubou Billy".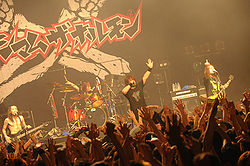 On March 19, 2008, the band released their newest live DVD, Deco Vs. Deco, featuring performances from their Buiikikaesu tour. The band would also make their first overseas appearance, touring sporadically in the United States and Canada with punk band Dropkick Murphys throughout March. The band received even greater exposure after performing at the hide memorial summit on May 3, 2008, where they considered a major success. On July 9, 2009, the band would release their eighth maxi single, "Tsume Tsume Tsume / "F"", and announced the beginning of a new "Tsume Tsume Tsume" tour featuring 24 shows on July 9 as well. "Tsume Tsume Tsume / "F" would become their most successful single to date, reacking a peak of two on the Oricon Weekly Singles Chart. The tour continued through October 16, 2008, with a tour finale on November 30.
MAXIMUM THE HORMONE, continuing to sell out venues and festivals such as PUNK SPRING 2008 in Japan, began more international touring in 2008 as well, beginning with Euro Tour 2008 on October 27. Completing the tour in 17 days, the band played six shows in England (two in London), one show in Köln, Germany, one show in Paris, France, and a final show in Barcelona, Spain. During their England shows, they played warm-up for the UK-based band Enter Shikari, and continued the Euro Tour with the band until November 3.
On October 27, 2008, it was announced that frontman Tsuda Daisuke would require throat surgery due to the development of vocal fold cysts, and the band would have to go on temporary hiatus beginning December 2008, and would continue until his full recovery and rehabilitation. The hiatus would prove to last three months, delaying the completion of the "Tsume Tsume Tsume" tour until the band's return in Osaka on March 8, 2009.
Beginning on May 5, 2009, the band headlined SAKOKU Tour 2009, several shows with support from western metalcore bands Bring Me the Horizon and Blessed by a Broken Heart, invited by the band themselves. The band won two awards for the single "Tsume Tsume Tsume", one from the SPACE SHOWER Music Video Awards 2009 for the "Space Shower Special Award" and another from the MTV Video Music Awards Japan 2009 for "Best Rock Video". MAXIMUM THE HORMONE has also announced their participation in two major festivals, both Rock in Japan 2009 as well as international Summer Sonic 2009, two venues where the band have performed previously.
Discography
Albums
Mini-Albums
Singles
Video Releases
Compilations / Other
External Links