Steph Pockets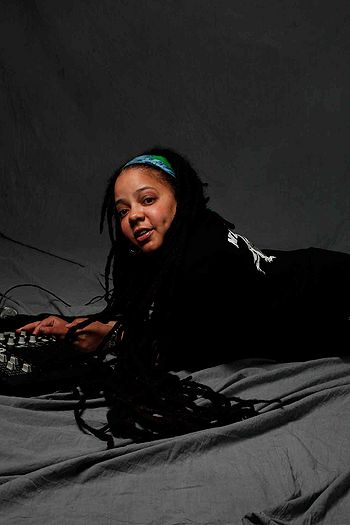 Steph Pockets is an American born japanese rapper and music producer. She recording on GOON TRAX and Victor Entertainment.
Profile
Information
She started rapping when she was 9 years old. When she was in the 5th grade she took Will Smith to school with her for career day. While attending Temple University (B.S. Mechanical Engineering, 1999) she performed at various music conferences throughout the USA. Her track "Bum Bum Bum" was used for the film "O" (Julia Stiles and Josh Harnett).
She released her first album "My Crew Deep" in 2004. In 2005, famous japanese R&B-singer AI invite her for recording some track for album Mic-a-Holic A.I.
Her second album "Flowers" was #5 on the Tower Records Japan Top-10 Hip-Hop list for albums sold in 2005. Also in that year she performed at the Blue Note in Osaka and Nagoya, and sold-out clubs throughout Japan.
She produced tracks for AI (Life, Party), who went Platinum. Steph also produced tracks for some other artist including Aya Ueto (star of "Azumi" movies). And in 2007 Steph's 3rd album, "Can't Give Up", was released in Japan, Hong Kong and Taiwan. This album was #1 in pre-orders sales by Tower Records, and #7 in the top selling Hip-Hop albums of 2007. The title track, featuring Speech from Arrested Development, was on Japan Airlines' in-flight audio play-list. In 2007 Steph scored a commercial for McDonald's, which still airs worldwide.
In 2007 she released special album "The Early Works". In December of that year, Steph headlined the AIDS/HIV charity event "Nippon Jam", presented by the New York Japan Student Association at the Knitting Factory in NYC. Next Steph's song "Night Life" was featured on the AND1 DVD in Japan of december 2008. In next year she released 5th album - "Friend", and toured throughout Japan (18 shows in 14 cities).
In 2011 Steph completed her next album, "Forever". She was also featured on a song alongside Sadat X (Brand Nubian), Sonny Cheeba (Camp-Lo) and Anna Tsuchiya (Kamikaze Girls) produced by Volta Masters. Following the 2012 release of her next album "Forever" she had 14 shows throughout many cities in Japan.
In 2013 she had various shows throughout Tokyo and Kanazawa. She also performed with Volta Masters at One California Day Festival in Chigasaki. To celebrate her 10th year of her musical success, she released an official mix CD called "Gold Rose mixed by DJ bara" (by Freedom Records) and a collaboration album "10 TEN" - DJ Kou & Steph Pockets collaboration release.
She toured 22 shows in Japan promoting those projects in 2014. In 2015 she had a 4 shows in France. After seeing her performances in France she got several offers and request to work on projects with different French producers and artists. Her anthem "My Crew Deep" was remade and released on the Jazzy & Mellow Hip Hop compilation album "IN YA MELLOW TONE 12" this series has sold 340,000 copies. The song is called "My Crew Deep Together" with Ai Ninomiya in 2016. And in the end of 2016 Steph Pockets released her latest album "ON THIS JOURNEY".
Discography
Studio Albums
Split Albums
Bootlegs
Singles
Special Releases
External Links