Several exciting updates will soon be happening to both the wiki and the front page! Be sure to check out our
Facebook page
for the latest changes and to interact with thousands of fans worldwide just like you!
Antic Cafe
From generasia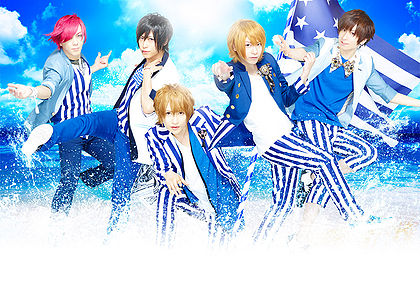 Antic Cafe (アンティック -珈琲店-), or AN CAFE in English, is a five member indies Japanese pop-rock oshare-kei styled band. They are under their own label "Red Cafe" which is now a part of the artist management and publishing company Sony Music Artists (starting from February 4th, 2010), having previously been affiliated with Music Ray'n since mid 2007. The group describes themselves as "Harajuku Rock-kei"; having music that tends to be upbeat and poppish with a mixture of rock and punk, while their lyrical content usually consists of topics pertaining to love.
After their live on January 4th, 2010 at Nippon Budoukan, Antic Cafe has been on hiatus. Since the hiatus Miku has formed a new band called Lc5, Kanon has created the unit kanonxkanon with Wakeshima Kanon, and Teruki has joined the band DOG inThe PWO as their support drummer.
In 2015, the band debuted under Being Inc. (White Cafe), a subsidiary label of GIZA studio.
Members
Former Members
Biography
2003-2004
Antic Cafe formed sometime in May of 2003 when vocalist Miku (ex-Reverie), newcommer guitarist Bou, and bassist Kanon (ex-Unlogical), whom all hail from the Kantou area of Japan, met eachother on an unnamed internet messageboard while searching for other individuals with interests similar to their own; specifically people looking for musicians. Drummer-less, the band had their first demonstration at Akasaka L@N on June 6th with their second demonstration at Urawa NARCISS on June 17th. Antic Cafe distributed 50 copies of their first demo, "Ope●ng", in MiniDisc format at their second demonstration.
At their debut live at Ikebukuro CYBER on July 2nd, the group sold their second demo MD "Uzumaki Senshokutai / Hatsukoi". The two demos were self-published and were their last releases without label backing. A month gapped their next activity, a concert at Meguro Rockamykan on August 2nd. Their Ikebukuro CYBER live on August 10th (which was a Calmando Qual sponsored event called "Neo+Bible Dai Sanshou") was important because it's when Antic Cafe announced that Teruki, feathers-blue's drummer (who was known as "C.F.Randle"), joined the band. His first concert with the group was on September 22nd at Urawa NARCISS.
What followed was a string of 10 lives, spanning from September 25th at Ikebukuro CYBER to their last concert of 2003, December 27th at Harajuku ASTRO HALL. December of 2003 was also the time when Antic Cafe announced that they signed with independent label LOOP ASH RECORDS and are going to release their debut single "Candy Holic" on March 24th, 2004.
Their first lives of 2004 were on January 9th and 12th, both at the Takdanobaba AREA venue. The rest of January's activities were a two-man concert with Sinkro at Ikebukuro CYBER on the 23rd, at two regular lives at different CLUB QUATTRO live houses; Nagoya CLUB QUATTRO on the 26th and Shinsaibashi CLUB QUATTRO the next day.
Leading up the release of their debut single, Antic Cafe played two consective concerts during February 12th and 13th, both at Harajuku ASTRO HALL. Following those lives was the band's first one-man at Ikebukuro CYBER on March 13th. Their last activity of March was the release of "Candy Holic" on the 24th. The single would later reach #2 on the Oricon indies charts, and #75 on the overall charts where it charted for two weeks.
Over the couse of April and May they had a string of nine concerts, ultimately culminating in their second one-man titled happy birthday Tsuyu at Takadanobaba AREA on May 29th. Those lives stretched from April 6th at Shibuya O-EAST to May 21st at Sapporo KRAPS HALL. During their second one-man, Antic Cafe distributed their first other single, "Hatsukoi", for free. The song is a studio version of the same song from their second demo.
Starting off June was the release of their second single "√69" on the 9th. This managed to reach #88 on the overall Oricon weekly charts, where it charted for a week. Twelve concerts and three events spanned June and July. The lives started on June 11th at Nagoya Shinei MUJICA and concluded on July 31st at Yokohama Arena Sound Hall (which was organised by SCUBER DIVE). The first of the events was Kanon's birthday party at Ikebukuro CYBER on July 5th, the second of the three was the "SHOCK JAM 2004 #003" event at Harajuku ASTRO HALL on July 28th (which was the SHOCK JAM CD Edition.4 compilation album release event - Antic Cafe had contributed their song "Hisoukyou" to the album), and the last was a free to attend Cure "Japanesque Rock Collectionz" event at Shibuya Koukaidou on July 30th.
For the month of August Antic Cafe's activities were evenly split, having three of each; concerts and events. The lives preceded those events, beginning on the 3rd at Takadanobaba AREA and ending on the 9th at Shibuya O-WEST. On the 16th and 18th, the group participated in two Like an Edison produced events collectibtly titled "EDISIDE" at Shibuya O-EAST and Nagoya BOTTOM LINE respectively. The last of August's events was CLUB CITTA's organised "CITTA! CITTA! CLUB CITTA!!" at Kawasaki CLUB CITTA' on the 23rd.
The only activity during September was the dual one-man (their third) and Bou's birthday concert called Furuhata Ninzabu-Bou ~Veteran Driver no Jinsei Navigator. Saigo no Conveni e~ at Harajuku ASTRO HALL on the 16th. At the live, the band sold their second other single "Touhi Kairo". Coming before the release of their third single was four concerts, stretching from October 17th at club 1ne 2wo to November 1st at Nagoya Shinei MUJICA. "Cosmos", Antic Cafe's third single, was released on November 24th. It reached #5 on the Oricon indies charts, and #91 on the overall charts where it charted for two weeks. This is also their only single to later have a second press.
Preceding their first tour were three lives: number one on December 2nd at Sendai HOOK, number two on the December 4th at Niigata Z-1, and number three the next day also at Niigata Z-1. Koi no Cafe Sawagi, the title of their first tour, was a series of three TouNaKa based (東名阪; Tokyo, Nagoya, and Osaka) one-man concerts. First they visited Nagoya on the 8th at ELL.FITS ALL, with the second city being Osaka the next day at CLUB MERCURY, with the last area (Tokyo) on the 13th at Shibuya O-WEST. During the whole tour "Kirikiri Kirikiri..." was distributed while "Ame no Hankagai" was only distributed during the finale. Antic Cafe's final lives of the year were at Ikebukuro CYBER on the 28th, Takadanobaba AREA on the 31st, and lastly Yokohama Akarenga on the 31st.
Discography
Studio Albums
Best Albums
Mini Albums
Singles
Other Singles
Demo MDs
Video Releases
Compilations / Other
Publications
Photobooks
[2008.07] EUROPE de NYAPPY
[2009.10] BB Parallel World BAND SCORE
[2009.11] Kawayu's ЯocК Recipe
[2010.01] AN CAFE NYAPPY BOOK
Magazines
[2005.12.xx] Zy.[zi:] No.26 (Feature)
[2008.07.xx] Zy.[zi:] No.41 (Feature)
Lives
Tours
[2004.12.08 - 2004.12.13] Koe no Cafe Sawagi (恋のかふぇ騒ぎ)
[2005.03.29 - 2005.04.06] Haru no Tounaka One-Man Tour (春の東名阪ワンマンツアー)
[2006.03.10 - 2006.03.30] NYAPPY GO AROUND
[2006.05.17 - 2006.05.29] 9 DANCE WAR EVENT TOUR
[2007.01.05 - 2007.03.31] LIVE CAFE TOUR '07 NYAPPY GO AROUND 2
[2007.07.06 - 2007.08.01] LIVE CAFE TOUR '07 NYAPPY GO AROUND 3
[2007.11.07 - 2008.01.12] LIVE CAFE・TOUR '07-'08 NYAPPY GO AROUND FEVER
[2008.03.15 - 2008.05.31] LIVE CAFE・TOUR '08 NYAPPY GO AROUND THE WORLD
[2008.11.15 - 2009.01.15] LIVE CAFE・TOUR '08-'09 NYAPPY GO AROUND LOVE&GUN
[2009.03.15 - 2009.04.14] LIVE CAFE・TOUR '09 NYAPPY GO AROUND THE WORLD II -Harajuku Dance Rock Night-
[2009.09.10 - 2009.10.18] LIVE CAFE・TOUR '09 King of NYAPPY GO AROUND (キング オブ NYAPPY GO AROUND)
[2009.11.16 - 2009.12.07] LIVE CAFE・TOUR '09 King of ZEPPY GO AROUND (キング オブ ZEPPY GO AROUND)
One-Mans
External Links