New user registrations outside of OpenID have been disabled pending a review of a recent influx of spam accounts. Apologies for any inconvenience this may have caused.
Genki Iwahashi
From generasia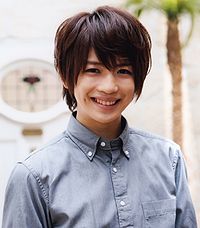 Genki Iwahashi is a member Johnny's Jr.. He joined the infamous all-male talent agency on October 30, 2010. His progress in his chosen career was slow at first. But fans begun to notice Iwahashi because of his cute face and dimples and shy yet has a strong sense of responsibility type of personality. Confessing to being bullied in middle school (and therefore not attending school), insecure Iwahashi was actually noticeably more popular than the other Juniors whom he was usually seen appearing on tv shows with.
Currently, he is a member of a Junior unit called Sexy Boys (formerly Sexy Boyz) with other Juniors Yuta Jinguji, Yuta Kishi, Kaito Miyachika, and Aran Abe. These 5 are unofficially labeled by fans as MAJIK (M - Miyachika, A - Abe, J - Jinguji, I - Iwahashi, and K - Kishi). It was recently [2014] announced that Iwahashi is now a member of the new unit called Sexy Boyz (reason why their group's name's spelling was changed from having a z to an s at the end) with Jinguji and Sexy Zone member Marius Yo. Sexy Boyz was formed for the Johnny's Junior summer show called Gamushara Sexy Natsu Matsuri, which will begin on July 30, 2014 and will run until August 10, 2014. Genki was the leader of Team Mu in Gamushara Sexy Natsu Matsuri. His team did breakdancing. He was able to do backflip after his hardwork with the help of SHUVAN-sensei. Other teams include Ga ("Freestyle Basketball" leader: Jesse), Sha ("Funcussion" leader: Jinguji), and Ra ("Double-dutch" leader: Hokuto).
Profile
Name: Genki Iwahashi(岩橋玄樹)
Nickname: Genki, IwaGen, Gen, Iwahashi, Iwachi
Birthday: December 17, 1996
Blood Type: O
Height: 164cm
Weight: 48kg
Admired Sempai: A.B.C-Z,Totsuka Shota
Hobby: Baseball
Pet: 2 dogs (Rookie & Cinammon), and a goldfish
Talent: Skateboarding, Baseball
Favorite Food: yakiniku, fruits
Dislike Food: plum
Favorite Color: Red
Favorite Sports: Baseball,Dance
Favorite Animal: Dogs and monkeys
Favorite Movie: "Umizaru"
Favorite Anime: "Urayasu tekkin kazoku"
Close friends: Jinguji Yuta (best friend), Miyachika Kaito, Abe Aran, Kishi Yuta, Nakamura Reia, Hirano Sho, Sato Shori, Fukasawa Tatsuya, Snow Man
Catch Phrase: "Minna, genki?" (Fans: Genki!) "Iwahashi~?" (Fans: Genki!!)
Works
Dramas
TV Shows
[2013] YanYan JUMP
[2013] School Kakumei (livestage only)
[2012-present] Shounen Club
[2012-2013] Johnny's Junior Land
[2014-present] Gamushara
Promotional Videos
(Sexy Zone)
[2012] Lady Diamond
[2012] Sexy Summer ni Yuki ga Furu
[2013] Real Sexy
[2013] Bai Bai Dubai ~See You Again~
[2014] King & Queen & Joker
(A.B.C-Z)
[2013] Twinkle Twinkle A.B.C-Z
(SMAP)
Commercial
[2013] Baskin Robbins
[2013] Johnny's Junior Land promotional CM
Others
Trivia
Iwahashi is good at both pitching and batting (baseball)
On Johnny's Junior Land, he said that the fastest pitch he was able to do was 120mph
He has a fascination with UFO
He wanted to become a professional baseball player but because of an injury he couldn't be one. So he joined Johnny's instead.
During one of his appearances on Jr. ni Q, when asked what he would want to be if he weren't a Johnny's, Iwahashi said he would like to become an astronaut.
Iwahashi's father is a Sports Doctor