Be sure to check out our
Facebook page
for the latest changes and to interact with thousands of fans worldwide just like you!
Kato Shigeaki
From generasia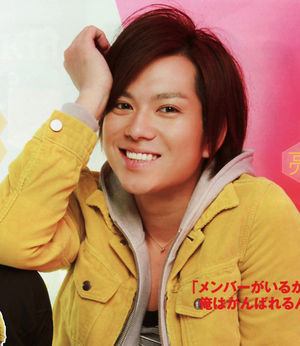 Kato Shigeaki is a member of Johnny's Entertainment group NEWS.
Profile
Stage Name: Kato Shigeaki (加藤シゲアキ)
Real Name: Kato Shigeaki (加藤成亮)
Nickname: Shige
Birthday: July 11, 1987
Birthplace: Osaka, Osaka Prefecture, Japan
Height: 175cm (5'9")
Weight: 60kg (132 lbs)
Blood Type: A
Pets: Dog (Nana)
Radio Shows: SHIGET TOGETHER (2005-2008), SORASHIGE BOOK (2011-)
Information
Kato Shigeaki joined Johnny's Entertainment in April of 1999 and was in the unit J-Support a.k.a K.K.Kity before he was selected to be in NEWS. He is often recognized as the smartest member of NEWS and also the one with the least self-confidence. He plays guitar and has composed a few songs with Yamashita Tomohisa and Tegoshi Yuya.
Kato is an avid writer and writes his blog from the perspective of a fictional cat named Wagahai. This is in parody of the popular book by Natsume Soseki entitled "Wagahai wa Neko de Aru" or I Am a Cat. He attended Aoyama University where he majored in law . He graduated in March 2010 , becoming the 3rd member in NEWS after Koyama Keiichiro & Yamashita Tomohisa in attaining an University education .
Vocal Profile
Voice Type: Basso cantante (High lyric bass-baritone)
Trivia
He loves cats, but sadly, is allergic. Therefore, his J-web entries are written from his "imaginary" cat Wagahai's point of view. In some way or another, Wagahai mentions Koyama and Koyama's cat Nyanta. They manage to set up "play dates" together.
Kato Shigeaki, who is usually called "Shige", became a member of NEWS, together with Koyama Keiichiro and Kusano Hironori, after they were all in K.K.Kity, one of the Johnny's Jr. groups.
For quite a while he was known as the most "underloved" and "underpromoted" member of NEWS, comparing to other members. Even though he is considered as the most intelligent and smart person among members, he seemed to rarely get chances to prove his abilities. However, after the return of NEWS, he has gradually been promoted and become more popular with changes in his appearance.
He watches a lot of Japanese movies.
He generally bad at sports with the exception of basketball and tennis.
He can ride a unicycle.
In order to study acting he is said to have bought many DVDs.
He is left handed.
He has narcolepsy.
Works
Dramas
CM
Theater Play
[2008] Konnanyatte Mimashita.
[2009] SEMINAR
[2011] 6 gatsu no Bitter Orange
[2014] Naka no Hito
Television Show
Publications
Magazines
[2011.05.xx] LOOK at STAR! July 2011 Issue (Cover & Feature)
Books
[2012.01.28] Pink and Grey (ピンクとグレー)
[2013.02.26] Senko Scramble (閃光スクランブル)
[2014.03.21] Burn. (-バーン-)
[2015.06.01] Kasa wo Motonai Aritachi wa (傘をもたない蟻たちは)