Be sure to check out our
Facebook page
for the latest changes and to interact with thousands of fans worldwide just like you!
Kyarypamyupamyu
From generasia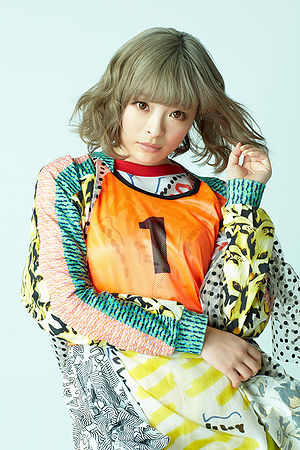 Kyarypamyupamyu (きゃりーぱみゅぱみゅ) is a Japanese fashion model and pop singer under the label Warner Music Japan and is produced by Nakata Yasutaka. Currently, she regularly appears in the Aomoji-kei fashion magazines Zipper and KERA.[1]
Profile
Alias: Kyary (きゃりー)
Birth Name: Takemura Kiriko (竹村桐子)
Date of Birth: January 29, 1993
Blood Type: B
Height: 157cm
Sizes: 80 - 59 - 83 cm
Shoe Size: 23.5 cm
Hobbies: Comedy, Music, Fashion
Bands / Groups:
Information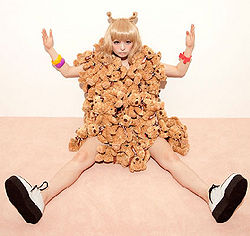 Kyarypamyupamyu got her start in 2009 when she participated in a straight shot session with KERA under the name Kyary. After that session, she became a full-time model for the magazine and participated in her first show, Harajuku Style Collection, in September 2010. Kyarypamyupamyu quickly became one of the top fashion models for the Aomojikei style. She hit popularity from her Harajuku style and her quirky faces online through blog sites around the world.
2010-11: Music debut
In 2010, Kyarypamyupamyu made her musical debut with the single "Miracle Orange" with High School Singer.JP. Then a year later, she participated in the cover album Kyarypamyupamyu no Ghibli Set, featuring covers of various Studio Ghibli theme songs, for which she she oversaw production and mixed one track, although she did not sing on the album herself. A month later, she switched labels and released the digital single "PONPONPON" in July and the mini-album Moshi Moshi Harajuku in August under Warner Music Japan. The single and album were produced by capsule's Nakata Yasutaka, who also produces Perfume and MEG.
2012: Pamyupamyu Revolution
Kyarypamyupamyu released her official debut single in January 2012, entitled "Tsukema Tsukeru", it reached a peak of #7 in the Oricon Charts. She released her second single, "CANDY CANDY", on April 4th. The single managed to debut at #8. Soon Kyarypamyupamyu announced the release of her first full-length studio album, also produced by Nakata Yasutaka. Pamyupamyu Revolution was released on May 23th. The album included her previous singles "Tsukema Tsukeru", "CANDY CANDY" and her successful debut song "PONPONPON". The album debuted in the #2 on Oricon charts.
In June she started her first nationwide tour which began on June 2nd in Osaka and ended on June 29th in Tokyo. In September Kyarypamyupamyu announced she would be the new image character for
g.u
commercials for the 2012 fall season. Her new, Halloween-themed, song "
Fashion Monster
" was used as promotional song for the whole commercial series.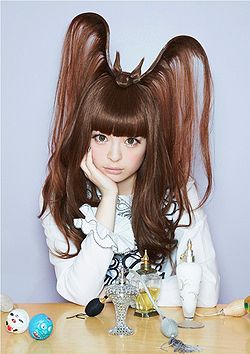 The song was later released on 17th October as a single and peaked at #5 making this her first visit in the Oricon Weekly Top 5.
Kyarypamyupamyu hold in November 2012 her first one-man live concert in which she performed songs from Pamyupamyu Revolution. The concert was recorded live in Nippon Budokan.
2013: 4th/5th Single & 1st World Tour
Kyarypamyupamyu released her 4th Single "Kimi ni 100 Percent / Furisodeshon" on January 30th, 2013, becoming her first double A-Side release. "Kimi ni 100 Percent" was used as opening theme song for the anime Crayon Shin-Chan, she even made an appearance herself in the anime. "Furisodeshon" was described as Kyarypamyupamyu "Birthday Song", her 20th birthday was one day before the single release. The song describe the things which people can do in Japan when they get 20 years old. She held a special birthday event on January 29th in the Shiba Park, where she performed her new song "Ninjari Bang Bang", which will be released as a single in March.
In February 2013, Kyarypamyupamyu released her first concert DVD/Blu-Ray from the Nippon Budokan concert. She will also kick off her first world tour titled
100% KPP WORLD TOUR 2013
, in which she will perform in France, United States, England, Belgium, South Korea (Later Cancelled), Taiwan, Thailand, Singapore, Australia and Japan.
In March a new g.u commercial line started including once again Kyarypamyupamyu, this time as an Alien, the promotional song for this series is called "Invader Invader". In end of March she announced that her new song "Point of view" would be used as theme song for a TV show. "Invader Invader" will be Kyarypamyupamyu's new single and was released on May 15th including "Point of view" as B-Side.
Later she announced the release of her second studio album Nanda Collection including every single from Fashion Monster to Invader Invader. Kyarypamyupamyu will provide the theme song for Star Trek: Into Darkness named "Into Darkness", the song will be revealed in July to promote the movie which is scheduled to be released in August in Japan.
Discography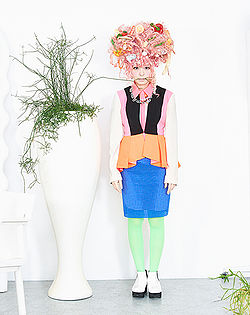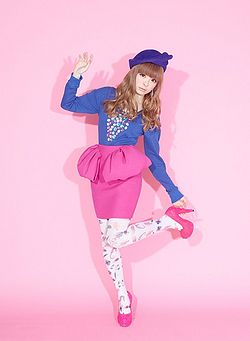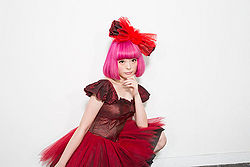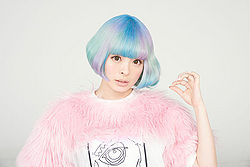 Albums
Mini-Albums
Best Albums
Boxes
Other Albums
Singles
Digital Singles
Vinyls
Video Releases
Filmography
Drama
Television
Anime
Publications
Books
[2011.08] Oh! My God!! Harajuku Girl (Oh!My God!!原宿ガール)
[2012.04] Kyarypamyupamyu Kyary Bon (きゃりーぱみゅぱみゅきゃりーぼーん)
[2013.08.08] 100%KPP WORLD TOUR 2013 OFFICIAL DOCUMENTARY PHOTO BOOK
Awards
[2013] Japanese CD Shop Association Awards: The CD Shop Grand Prize - Pamyupamyu Revolution (2nd Place)
[2013] Space Shower Music Video Awards: Video of the Year - "Tsukema Tsukeru"
References
External Links