Welcome to the
new Generasia
, now with new features and a mobile-friendly browsing experience. Be sure to check out our
Facebook page
for the latest changes and to interact with thousands of fans worldwide just like you!
Nakashima Yumi
From generasia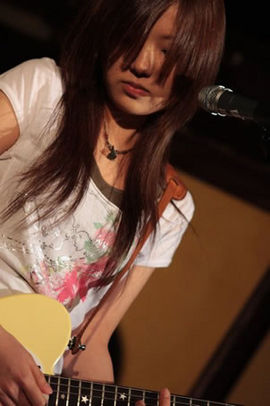 Nakashima Yumi (中島優美), also known as Yuu, is a Japanese singer and musician. She was the vocalist and guitarist of the disbanded rock band GO!GO!7188 and current member of the band Chirinuruwowaka.
Profile
Stage Name: Yuu (ユウ)
Real Name: Nakashima Yumi (中島優美)
Postition: Guitar
Birthdate: December 1, 1979
Blood Type: A
Defining Feature: Doesn't finish things, left-handed
Likes: Cats, Llamas, Kabocha recipies, Singing
Doesn't Like: Wind, Kikurage, Bean Sprouts, Onion
Bands:
Information
She "woke up to music" when she heard the The BOOM's Shima Uta. During middle school she decided that she wanted to be in a band, but she waited because back then the goal seemed unlikely. At the end of her freshmen year of High School she started a band and that is when she first meet Akko. The Five girls formed Jellyfish, a JUDY AND MARY cover band. She preferred playing the guitar to singing. A few years later the band broke up, but Akko and Yuu stuck together. Yuu started writing lyrics and singing. One of the their first songs ended up being their best selling, "Koi no Uta".
Even though she wanted to make music professionally, she doubted that she would ever be able to do so. She wanted to be in a band no matter what, even if she was an old lady. While in junior college, Yuu and Akko met Turkey "a boy who played drums". They soon started playing together and formed GO!GO!7188.
In between GO!GO!7188 recordings Yuu found time to record some solo tracks. In 2004 she released her debut solo album Ten no Mikaku. In 2005 Yuu became vocalist and a guitarist for Chirinuruwowaka. In September 2005 they released their debut album Iroha.
On February 10, 2012, GO!GO!7188 announced on their website that they were disbanding.
Discography
Albums
Compilations / Other
External Links