It is thanks to each and every one of you that has made Generasia the largest resource for Asian media info. To our wonderful contributors, thank you!
Nanno 30th & 31st Anniversary
From generasia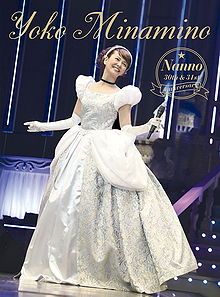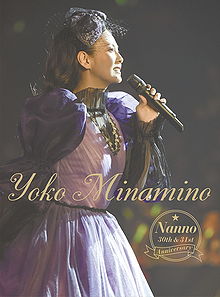 Artist

DVD

Nanno 30th & 31st Anniversary

Released

2017.02.22

Catalog Number

MHXL 40 (Blu Ray)
MHBL 294 (DVD)

Price

¥7,000 (Blu Ray)
¥6,000 (RDVD)

Tracklist

NANNO 30th ANNIVERSARY (品川ステラボール 2016.2.21) (Shinagawa Stella Ball)
Opening
NANNO 31st ANNIVERSARY
~シンデレラ城への長い道のり~ (舞浜アンフィシアター 2016.6.26) ~ A long way to Cinderella Castle ~ (Maihama Amphitheater)
Opening
Sayonara no Memai (さよならのめまい Good-night dizziness)
Kanashimi Monument (悲しみモニュメント Sadness Monument)
Kaze no Madrigal (風のマドリガル Wind Madrigal)
MC
Natsu no Obaka-san (夏のおバカさん silly summer)
Hazukashi Sugite (恥ずかしすぎて Too shy)
Anata wo Aishitai (あなたを愛したい I want to love you)
Bridge
Namida wa Doko e Itta no (涙はどこへいったの Where's the tears going?)
Pandora no Koibito (パンドラの恋人 Pandora's lover)
Trouble Maker (トラブル・メーカー Trouble Maker)
MC
Mimi wo Tsumashite Goran(耳をすましてごらん Please listen carefully)
Omoi no Mama ni (思いのままに As you wish)
Bridge
Approach 接近(アプローチ) Sekkin Approach)
Aki no Indication (秋のIndication Fall Indication)
Aki Kara mo, Soba ni Ite (秋からも、そばにいて From autumn, stay by your side)
Rakuen no Door (楽園のDoor Door of paradise)
Bridge
Double Game (ダブルゲーム)
MC
Merry Christmas (メリー・クリスマス)
Bokura no Yukue (僕らのゆくえ The future of us)
KISS Shite Loneliness (KISSしてロンリネス KISS to Loneliness)
Hen na no!! (へんなの!! Strange!!)
Cinderella Shiro e no Nagai Michinori (シンデレラ城への長い道のり A long road to Cinderella Castle)
MC
Haikara-san ga Oru (はいからさんが通る Mr. Okay go through)
Hanashi Kaketakatta (話しかけたかった I wanted to talk to you)
Toiki de Net (吐息でネット Nets by sigh)
MC
Hoshifuruyoru no Symphony (星降る夜のシンフォニー Symphony of the star falling night)
[Encore]
Bridge
MC
Lonely Night Yasoukyoku (Lonely Night 夜想曲; Nocturne)
[Special] NANNO 30th ANNIVERSARY (品川ステラボール 2016.2.21)
Hitomi no Naka no Mirai (瞳のなかの未来 The future in Hitomi)
Fuyu no Iro (冬の色 Winter color)
Life no Shita de Aimashou (リフトの下で逢いましょう Let's see you under the lift)
Harugeshiki (春景色 Spring Scenery)
Shiawase (幸せ Happiness)
Information
Nanno 30th&31st Anniversary is Minamino Yoko's 35th live DVD. It was released in two editions, Blu Ray and DVD. The concert was filmed on June 26, 2016 at Maihama Amphi Theater. Also includes five live tracks from her concert held on February 21, 2016 at Shinagawa Stellar Ball. Comes with a 52-page booklet in slipcase (digipak) and a Quocard Lottery Application Postcard.
External Links