Welcome to the
new Generasia
, now with new features and a mobile-friendly browsing experience. Be sure to check out our
Facebook page
for the latest changes and to interact with thousands of fans worldwide just like you!
San Mian Xiawa
From generasia
Artist

Album

Sān Miàn Xiàwá (三面夏娃; 3-Faced Elva)

Released

2008.06.13 (Wholehearted and Pre-order Versions)
2008.06.27 (Independent Version)
2008.07.12 (Courageous Version)
2008.07.25 (Collectible CD+DVD Edition)

CD Tracklist
DVD Tracklist
Information
Sān Miàn Xiàwá is the ninth album released by Elva Hsiao and her first after returning to Virgin Records. The album was released in multiple versions. The pre-order version included three of Elva's previously released albums, while the wholehearted, independent and courageous versions each had a different photobook included.
G-Music Charts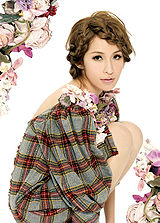 | Week Rank | Sales (%) |
| --- | --- |
| 2 | 8.13 |
| 4 | 2.56 |
| 4 | 2.44 |
| 11 | 0.84 |
| 13 | 0.92 |
| 12 | 0.64 |
| 3 | 5.88 |
| 12 | 0.95 |
| 19 | 0.67 |
External Links
GMusic Profile: Pre-order Version | Wholehearted Version | Independent Version | Courageous Version | Collectible CD+DVD Edition
Elva Hsiao
Topics
Mandarin Albums
Other Mandarin Albums
Mandarin Digital Singles
Japanese Albums
Japanese Singles
Official Website