New user registrations outside of OpenID have been disabled pending a review of a recent influx of spam accounts. Apologies for any inconvenience this may have caused.
Shinvi
From generasia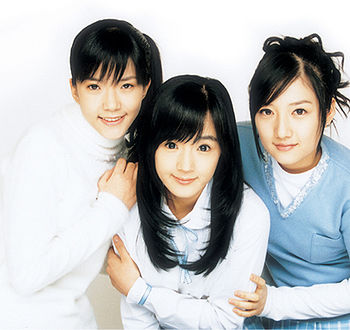 Shinvi (신비) was a Korean pop three member girl group.
Members
Information
Trained by Starlight Casting System, Shinvi was a group that, similar to their contemporaries M.I.L.K., was promoted by SM Entertainment, but actually belonged to a different company, the SM Group subsidiary Cid.K Entertainment. Member Soo Jin was chosen from the "1st SM Entertainment Best Youth Contest". Lead singer Sang Eun had previously appeared in Moon Hee Jun's song "Uri Iyagi".
Shinvi caused a lot of confusion and speculation when they debuted. The first confusion relates to SM singer BoA. Back before BoA debuted, there was a rumor that SM Entertainment was in the process of creating another girl group called "ShinBi". Pictures even circulated online of the girls who were supposed to be in that group. When the news arose that a group named "Shinvi" (though thought at that time to be "ShinBi") was going to debut, many fans dismissed the news as just the old rumor recirculating.
The second point of confusion was related to their name. The group was thought to be named ShinBi (신비) until official romanization revealed it to be Shinvi. Both names are pronounced the same way in Korean. Additionally, the name is composed of the Chinese characters (神飛) "god" and "fly" and thus does not have the normal meaning of "shinbi" (mystery) in Korean.
Shinvi's album was originally scheduled to be released in late 2001, but was plagued by a score of delays. Shinvi actually debuted on stage in February, but it wasn't until late March that their album would finally be released.
In a time where fans were tired of female groups constantly lipsynching their performances, Shinvi, who were marketed as "Live Performers" should have been a breath of fresh air. However, they did not reach as much success as they would have hoped. While Shinhwa member Jun Jin appeared in their "To My Friend" music video, poor promoting in general did not help their popularity. Additionally, misunderstandings of the lyrics of "To My Friend" caused some controversy, at least among the online community, that the song was from a lesbian's point of view. Not helping the misunderstanding any, the music video could also be misinterpreted to support the confusion.
Starting in early February (before the album was released), an online poll was conducted at Shinvi's Cid.K Official Site in order to determine what the group's follow up song would be. In the end, it was decided that "Darling" would be the next song. The group started activities for "Darling" in early April. The song was an upbeat, cute pop song, vastly different from the ballad of "To My Friend" and the rest of Shinvi's mellow album. Though the song was used in the online game Shining Lore, it also put off a lot of fans who were tired of cute pop acts.
Shinvi released one more solo song on the compilation Summer Vacation in SMTOWN.com album, "Summer in Love". It was an upbeat yet mellow song with a much more mature sound than "Darling," but the group still failed to attract much attention.
The last album that Shinvi participated in was 2002 Winter Vacation in SMTOWN.com. Though Yuna's voice can be heard on the song "I Miss You" and appears in the music video for "My Angel My Light", only Soo Jin and Sang Eun were in the pictures for the album's jacket. The mysterious absence of Yuna caused some speculation about the group's status. Fans were hopeful, but after years of waiting for some piece of news, though there has been no official announcement, most recognize that the group had disbanded.
Trivia
Official Fanclub: Linos
Official Color: Pearl Teal
Discography
Album
Other