It is thanks to users like YOU that Generasia exists today. To all of our contributors and visitors alike, Thank You!! Be sure to like us on Facebook for the latest updates and to meet others who also enjoy Asian media!
To Love
From generasia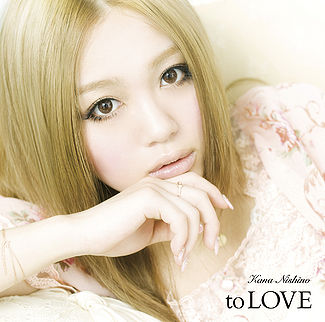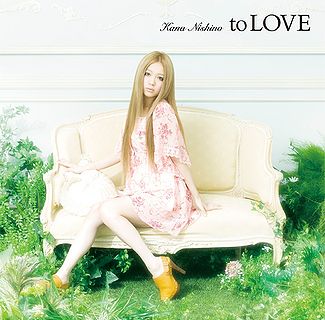 Artist

Album

to LOVE

Released

2010.06.23 (Japan)
2010.06.28 (South Korea)
2010.07.13 (Hong Kong)

Catalog Number

SECL-876~877 (Limited Edition)
SECL-878 (Regular Edition)

Price

¥3,500 (Limited Edition)
¥3,059 (Regular Edition)
CD Tracklist
DVD Tracklist
Kana Nishino Video Clips 2
Information
to LOVE is the second album released by Nishino Kana. It was released in two versions: a limited CD+DVD edition and a regular CD edition. Since the release of debut album Nishino's success started climbing. The four singles released leading up to this all reached #1 on RIAJ Digital Track Chart and sold over a million downloads. The track "Kono Mama de" has been certified Platinum by the Recording Association of Japan for over 250,000 downloads. The song "love & smile" has been certified Gold for over 100,000 downloads. to LOVE received a Triple Platinum for sales over 750,000 copies.
Oricon Chart Positions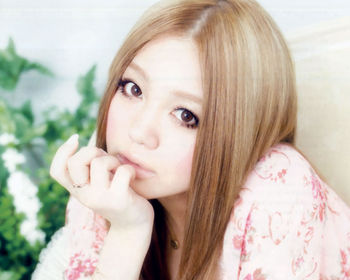 The album reached #1 on the weekly Oricon chart and continued to rank for an astonishing 104 weeks, staying on the weekly chart for two years. to LOVE was a commercial success for Nishino; It sold 645,417 copies in 2010, making it the #3 album of the year.
It went on to sell an additional 66,769 copies in 2011, and 15,211 more in 2012. This is Nishino's best selling album, and her first #1 record.
Mon
Tue
Wed
Thu
Fri
Sat
Sun
Week Rank
Sales
-
1
1
1
1
1
1
1
290,048
1
4
4
1
1
1
1
1
112,724
1
4
3
3
2
1
1
3
67,697
1
5
4
4
4
2
2
3
36,814
2
6
4
4
3
3
3
4
24,462
3
15
9
8
8
7
7
8
17,976
7
17
16
11
10
8
6
10
14,120
7
12
11
9
8
7
7
7
15,923
6
10
11
10
10
6
6
9
9,894
6
18
12
10
9
8
8
11
8,193
8
16
19
13
13
10
11
14
6,323
10
27
26
18
20
20
18
23
4,757
14
-
34
28
32
24
24
35
3,539
19
48
36
33
25
24
26
31
3,659
20
50
41
35
28
24
21
33
3,215
14
39
38
33
33
27
25
31
3,006
21
41
38
30
33
32
19
32
2,557
19
45
45
38
46
37
32
42
2,223
26
-
-
-
-
45
36
59
2,164
34
44
-
38
38
34
31
48
2,957
31
-
-
47
49
38
28
52
2,304
29
-
-
50
42
37
29
47
2,198
-
-
-
48
28
29
30
51
2,783
28
-
-
-
43
41
25
49
2,839
25
-
-
-
48
46
33
63
3,042
34
-
-
35
32
22
26
41
3,829
21
39
31
24
19
19
18
27
6,192
21
25
24
17
11
11
12
16
7,179
13
12
12
16
15
14
14
14
7,446
13
31
25
23
26
24
20
25
4,277
16
38
-
38
37
25
20
32
2,955
26
-
-
-
-
47
43
57
2,342
40
-
-
41
-
33
30
47
2,154
28
50
43
48
39
-
-
45
2,133
-
-
-
-
-
-
-
54
1,951
-
-
-
-
-
-
-
69
1,759
-
-
-
-
-
-
-
69
1,751
-
-
-
-
-
-
-
78
1,273
-
-
-
-
-
-
-
91
923
-
-
-
-
-
-
-
80
1,097
-
-
-
-
-
-
-
67
1,246
-
-
-
-
-
-
-
109
1,002
-
-
-
-
-
-
-
109
914
-
-
-
-
-
-
-
139
744
-
-
-
-
-
-
-
139
966
-
-
-
-
-
-
-
97
1,219
-
-
-
-
-
-
-
112
782
-
-
-
-
-
-
-
102
815
-
-
-
-
-
-
-
128
908
-
-
-
-
-
-
-
136
762
-
-
-
-
-
-
-
159
646
-
-
-
-
-
-
-
149
706
-
-
-
-
-
-
-
161
810
-
-
-
-
-
-
-
140
815
-
-
-
-
-
-
-
182
597
-
-
-
-
-
-
-
184
544
-
-
-
-
-
-
-
177
568
-
-
-
-
-
-
-
184
610
-
-
-
-
-
-
-
198
516
-
-
-
-
-
-
-
202
511
-
-
-
-
-
-
-
173
542
-
-
-
-
-
-
-
257
434
-
-
-
-
-
-
-
247
397
-
-
-
-
-
-
-
249
396
-
-
-
-
-
-
-
269
362
-
-
-
-
-
-
-
out for three weeks
-
-
-
-
-
-
-
275
373
-
-
-
-
-
-
-
out for four weeks
-
-
-
-
-
-
-
248
383
-
-
-
-
-
-
-
out for one week
-
-
-
-
-
-
-
247
445
-
-
-
-
-
-
-
241
495
-
-
-
-
-
-
-
185
680
-
-
-
-
-
-
-
x
877
-
-
-
-
-
-
-
131
817
-
-
-
-
-
-
-
116
882
-
-
-
-
-
-
-
191
493
-
-
-
-
-
-
-
260
403
-
-
-
-
-
-
-
274
432
-
-
-
-
-
-
-
209
462
-
-
-
-
-
-
-
262
398
-
-
-
-
-
-
-
204
493
-
-
-
-
-
-
-
280
426
-
-
-
-
-
-
-
191
500
-
-
-
-
-
-
-
208
535
-
-
-
-
-
-
-
203
479
-
-
-
-
-
-
-
188
599
-
-
-
-
-
-
-
236
467
-
-
-
-
-
-
-
207
439
-
-
-
-
-
-
-
240
394
-
-
-
-
-
-
-
299
335
-
-
-
-
-
-
-
out for one week
-
-
-
-
-
-
-
242
474
-
-
-
-
-
-
-
out for three weeks
-
-
-
-
-
-
-
216
427
-
-
-
-
-
-
-
out for one week
-
-
-
-
-
-
-
287
350
-
-
-
-
-
-
-
269
355
-
-
-
-
-
-
-
out for three weeks
-
-
-
-
-
-
-
288
362
-
-
-
-
-
-
-
out for two weeks
-
-
-
-
-
-
-
291
346
-
-
-
-
-
-
-
235
420
-
-
-
-
-
-
-
out for two weeks
-
-
-
-
-
-
-
212
421
-
-
-
-
-
-
-
223
412
-
-
-
-
-
-
-
288
367
-
-
-
-
-
-
-
284
435
-
-
-
-
-
-
-
276
389
-
-
-
-
-
-
-
out for one weeks
-
-
-
-
-
-
-
279
342
-
-
-
-
-
-
-
out for ten weeks
-
-
-
-
-
-
-
212
548
-
-
-
-
-
-
-
288
323
-
-
-
-
-
-
-
300
292
Total Reported Sales: 727,945*

World Chart Positions
| | Week 1 | Week 2 | Week 3 | Week 4 | Week 5 |
| --- | --- | --- | --- | --- | --- |
| Position | 2 | 4 | 11 | 20 | 33 |
External Links