It is thanks to users like YOU that Generasia exists today. To all of our contributors and visitors alike, Thank You!! Be sure to like us on Facebook for the latest updates and to meet others who also enjoy Asian media!
With Love
From generasia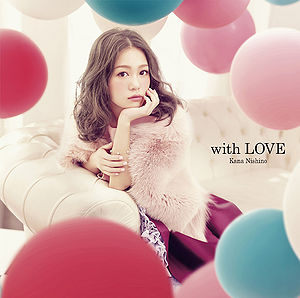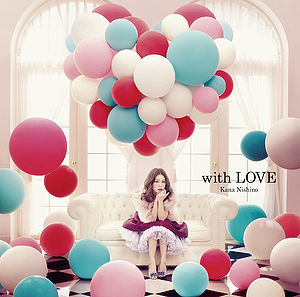 Artist

Album

with LOVE

Released

2014.11.12 (Japan)
2014.11.18 (South Korea)
2014.11.19 (Taiwan)

Catalog Number

SECL-1609/10 (Limited Edition)
SECL-1611 (Regular Edition)

Price

¥3,600 (Limited Edition)
¥3,100 (Regular Edition)

CD Tracklist
DVD Tracklist
Information
with LOVE is the fifth studio album released by Nishino Kana. It was released in two versions: a limited CD+DVD edition and a regular CD only edition. The album is certified Platinum for shipment of 250,000 copies.
Oricon Chart Positions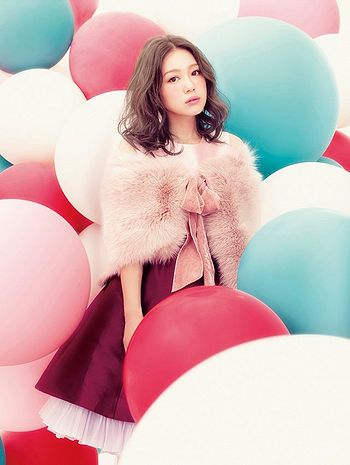 | Mon | Tue | Wed | Thu | Fri | Sat | Sun | Week Rank | Sales |
| --- | --- | --- | --- | --- | --- | --- | --- | --- |
| - | 1 | 1 | 1 | 1 | 1 | 1 | 1 | 100,111 |
| 1 | 6 | 3 | 3 | 2 | 1 | 1 | 2 | 37,444 |
| 1 | 7 | 5 | 2 | 2 | 2 | 1 | 2 | 28,491 |
| 3 | 17 | 11 | 5 | 5 | 4 | 4 | 8 | 15,266 |
| 4 | 17 | 10 | 10 | 9 | 7 | 5 | 10 | 11,182 |
| 5 | 20 | 13 | 8 | 7 | 3 | 5 | 9 | 9,471 |
| 8 | 11 | 3 | 8 | 8 | 6 | 7 | 8 | 10,478 |
| 6 | 6 | 6 | 5 | 5 | 5 | 5 | 6 | 9,173 |
| 5 | 12 | 10 | 9 | 8 | 8 | 11 | 9 | 5,116 |
| 6 | 21 | 15 | 10 | 13 | 11 | 12 | 11 | 4,284 |
| 10 | 35 | 29 | 23 | 22 | 16 | 16 | 26 | 3,548 |
| 15 | - | - | - | 27 | 23 | 18 | 37 | 2,665 |
| 17 | - | - | 28 | - | 25 | 9 | 32 | 2,353 |
| 24 | - | - | - | - | 30 | 24 | 40 | 1,809 |
| 27 | - | - | - | - | - | - | 61 | 1,360 |
| - | - | - | - | - | - | - | 70 | 1,342 |
| - | - | - | - | - | - | - | 96 | 1,003 |
| - | - | - | - | - | - | - | 87 | 816 |
| - | - | - | - | - | - | - | 97 | 857 |
| - | - | - | - | - | - | - | 131 | 712 |
| - | - | - | - | - | - | - | 119 | 621 |
| - | - | - | - | - | - | - | 138 | 519 |
| - | - | - | - | - | - | - | 135 | 504 |
| - | - | - | - | - | - | - | 189 | 431 |
| - | - | - | - | - | - | - | 114 | 603 |
| - | - | - | - | - | - | - | 92 | 592 |
| - | - | - | - | - | - | - | 85 | 600 |
| - | - | - | - | - | - | - | 87 | 589 |
| - | - | - | - | - | - | - | 129 | 551 |
| - | - | - | - | - | - | - | 108 | 500 |
| - | - | - | - | - | - | - | 116 | 453 |
| - | - | - | - | - | - | - | 145 | 443 |
| - | - | - | - | - | - | - | 203 | 392 |
| - | - | - | - | - | - | - | 134 | 473 |
| - | - | - | - | - | - | - | 126 | 508 |
| - | - | - | - | - | - | - | 118 | 518 |
| - | - | - | - | - | - | - | 128 | 625 |
| - | - | - | - | - | - | - | 113 | 629 |
| - | - | - | - | - | - | - | 132 | 541 |
| - | - | - | - | - | - | - | 84 | 664 |
| - | - | - | - | - | - | - | 119 | 528 |
| - | - | - | - | - | - | - | 152 | 542 |
| - | - | - | - | - | - | - | 148 | 496 |
| - | - | - | - | - | - | - | 112 | 515 |
| - | - | - | - | - | - | - | 175 | 462 |
| - | - | - | - | - | - | - | 143 | 463 |
| - | - | - | - | - | - | - | 220 | 356 |
| - | - | - | - | - | - | - | 206 | 319 |
| - | - | - | - | - | - | - | 214 | 291 |
| - | - | - | - | - | - | - | 257 | 300 |
| - | - | - | - | - | - | - | 297 | 254 |
| - | - | - | - | - | - | - | 290 | 232 |
| - | - | - | - | - | - | - | 145 | 486 |
| - | - | - | - | - | - | - | 174 | 409 |
| - | - | - | - | - | - | - | 242 | 357 |
| - | - | - | - | - | - | - | 234 | 340 |
| - | - | - | - | - | - | - | 228 | 341 |
| - | - | - | - | - | - | - | 241 | 347 |
| - | - | - | - | - | - | - | 206 | 495 |
| - | - | - | - | - | - | - | 167 | 433 |
| - | - | - | - | - | - | - | 198 | 325 |
| - | - | - | - | - | - | - | 248 | 260 |
| Year | Month | Month Rank | Sales |
| --- | --- | --- | --- |
| 2014 | November | 2 | 166,046 |
| 2014 | December | 8 | 46,397 |
| 2015 | January | 15 | 24,786 |
Total Reported Sales: 266,788*
Total Sales of 2014: 181,312 (#21 album of 2014)
Total Sales of 2015: 83,616 (#45 album of 2015)
Total Sales of 2016: 1,860*

External Links