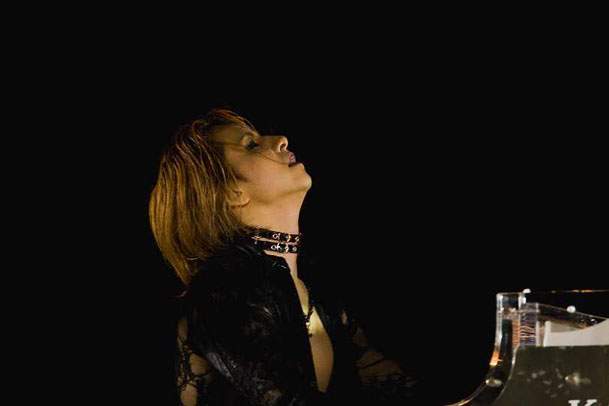 YOSHIKI, known best for being part of the J-Rock group X JAPAN, was recently featured on ABC as being the "Bono of Japan". Here's what was posted on ABC:
He may have a small U.S. fan base but he has been called the Bono of Japan.

Yoshiki, the drummer and pianist of the rock band X-Japan, has sold millions of records and regularly plays to 50,000 to 70,000 people. He has a branded Visacard, a fragrance line and a race car team.

He's the first human to have a Hello Kittydoll named after him. And now he wants to conquer America.

"We wanted to come here [to America] a long time ago," Yoshiki said. "Because of our influence. … Kiss, Metallica. Also it's a center of entertainment, center of pretty much everything."

X-Japan Begins

Yoshiki Hayashi, 44, of Tateyama, Japan, and a classically trained pianist, discovered U.S. heavy metal as a kid.

He only listened to Beethoven, Bach and Chopin until he was 10 and discovered Kiss, he said. "I saw, like, Gene Simmons, the face with the blood, like what is that? I want it," he said.

From there, he started listening to Led Zeppelin and the Beatles.

At the age of 10, Yoshiki and childhood friend Toshimitsu "Toshi" Deyama started an amateur school band with Yoshiki on drums and Deyama on vocals and guitar. By junior high, they had added a few more members and named the band X. They added Japan 15 years ago because a band named X already existed in the United States.
Read more at ABC News.