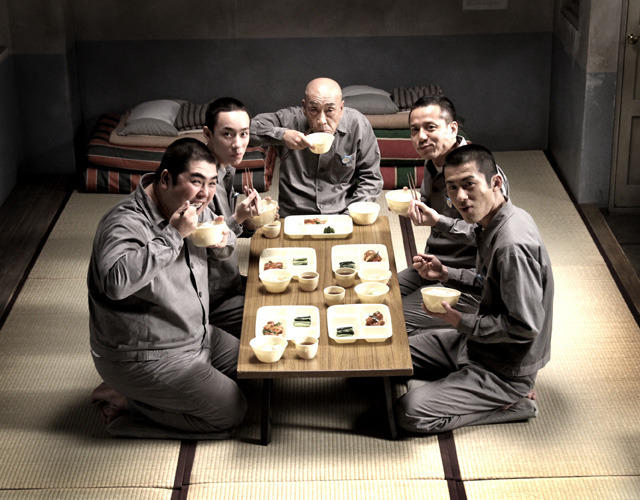 The popular manga Gokudo Meshi by Tsuchiyama Shigeru is being turned into a live-action film. The director will be Maeda Tetsu, known for films such as Buta ga Ita Kyoushitsu (School Days with a Pig) and Youki na Gang ga Chikyuu wo Mawasu (A Cheerful Gang Turns the Earth).
Gokudo Meshi has been running in Futabasha's Weekly Manga Action magazine since 2006. Like many of Tsuchiyama's other works including Kuishinbou!, the story has food as its central theme.
The film version of Gokudo Meshi is set in a prison on New Year's Day, where a group of cellmates play a game over their osechi (traditional New Year's foods), competing for items from each other's meals by boasting about the most delicious things they've ever eaten.
The movie was filmed over a period of 12 days, and it is said that only 2 of those days were spent shooting scenes that did not involve the characters having a meal.
Nagaoka Tasuku (28) will star, along with Katsumura Masanobu, Aida Shunsuke, Gitaro, Maro Akaji, Kimura Fumino, and Tanaka Yoji. Theatrical release is planned for sometime in 2011.
Source:
Eiga.com