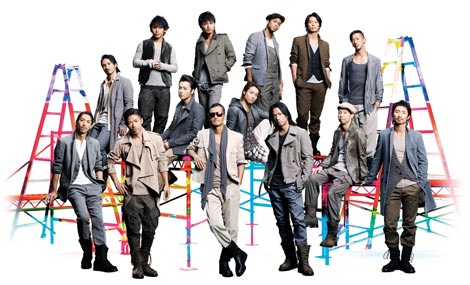 Hot off the heels of their third consecutive win at the Japan Record Awards, EXILE has already announced that they have 5 "big projects" planned for the new year. They will start with a new album on March 9, accompanied by a dome tour.
The new album, titled Negai no Tou, will have "wishes" as its theme. Before that, they will release a single called Each Other's Way ~Tabi no Tochuu~ on February 9, with lyrics written by ATSUSHI.
They have not yet revealed any details about the "EXILE LIVE TOUR 2011: Dome Tour," but it will be the group's first Dome concerts since they grew to a 14-member group.
In August, their theatrical troupe Gekidan EXILE will perform two stage versions of the movie Red Cliff. AKIRA will star in "Red Cliff -Ai-," while MAKIDAI will star in "Red Cliff -Sen-." They will be performed during the same time frame at two separate theaters, one in Ginza and the other in Aoyama.
EXILE also has plans for a new VOCAL BATTLE AUDITION. Their previous two auditions in 2006 and 2010 were for male vocalists, but this one will be for women between the ages of 12 and 25, with categories for dance performance and vocals. The audition process will begin in Osaka and Fukuoka on February 5.
The last of the big projects is an event called "Nidaime J Soul Brothers VS Sandaime J Soul Brothers ~EXILE TRIBE~," which will be held at the Kobe World Kinen Hall on July 1-3, 5, 6 and at the Saitama Super Arena on July 30-August 2.
Source:
Oricon