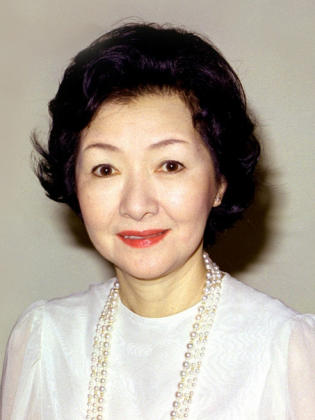 Legendary actress Takamine Hideko passed away at the age of 86, it has been learned. She died of lung cancer at a hospital in Shibuya, Tokyo, at 5:28am on December 28, 2010. She was admitted to the hospital around the end of October.
Takamine was born in Hokkaido in 1924. She made her acting debut at the age of 5 in the movie Haha, and she became known as Japan's equivalent to American child star Shirley Temple. Also known by the nickname "Deko-chan," she proved that she was more than just a typical child actress with her dramatic performance in the 1938 movie Tsudzurikata Kyoushitsu.
Continuing her rise to fame, Takamine became a freelance actress in 1950, considered to be a bold move at the time because stars were generally tied exclusively to a single movie studio. Appearing in numerous films by some of Japan's top directors, such as Kinoshita Keisuke and Naruse Mikio, Takamine was soon of the most successful stars in the industry. Perhaps her best known performance was her role as a schoolteacher in Kinoshita's 1954 masterpiece Twenty-Four Eyes.
Her other notables works include Naruse's Floating Clouds and Kinoshita's Immortal Love. Over the course of her career, she received many awards, including a record-setting four wins as Best Actress in the Mainichi Film Awards.
In 1955, Takamine married director Matsuyama Zenzo (85), who had served as assistant director for Twenty-four Eyes. She retired as an actress in 1979 and became an essayist, releasing several books during the last two decades.