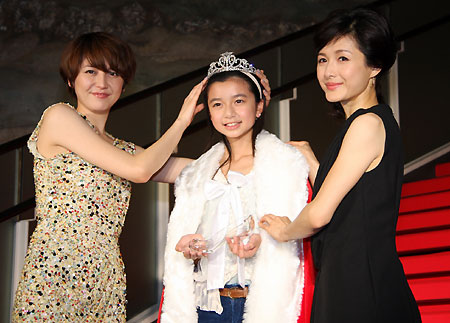 The 7th Toho Cinderella Audition was held on Sunday, setting a new record as 10-year-old Kamishiraishi Moka became the competition's youngest grand prize winner ever. Kamishiraishi, a 5th-grader from Kagoshima, bested a field of 44,120 entrants.
Four special judge's prizes were handed out this year, including one to Kamishiraishi's older sister Mone (12). The others were Hayashi Narumi (14), Matsushima Junna (13), and Yamazaki Hirona (16).
This year, a "New Generation Award" was established, given to Ogawa Ryo (10) and Hamabe Minami (10).
The past Toho Cinderella Auditions were held in 1984, 1987, 1991, 1996, 2000, and 2006. The competition launched the careers of several stars, including Sawaguchi Yasuko, Mizuno Maki, and Nagasawa Masami.
Sources:
Oricon
Mantan Web