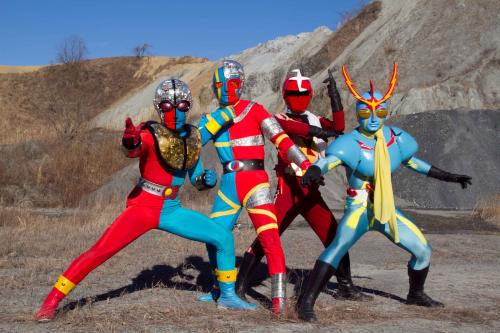 The upcoming movie "OOO Den-O All Riders: Let's Go Kamen Rider" will feature special guest appearances by four other popular tokusatsu heroes, created by Ishinomori Shotaro in the 1970s: Kikaider, Kikaider 01, Inazuman, and Kaiketsu Zubat. This will be the first time that they have appeared on screen together with Kamen Riders.
The film, which celebrates the franchise's 40th anniversary, is already known to include all of the past Kamen Riders, with the focus on Kamen Rider OOO, Kamen Rider Den-O, and Kamen Rider #1. With the four guest heroes fighting alongside the Kamen Riders, the movie promises to be a historic event in the hero genre.
For Kikaider and Zubat, this will be the characters' first movie appearances in more than 30 years.
"OOO Den-O All Riders: Let's Go Kamen Rider" premieres on April 1, 2011.
Source:
Sponichi Annex