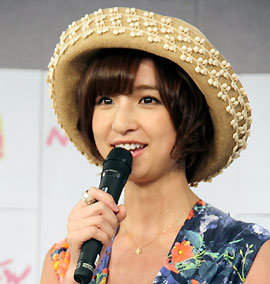 AKB48 member Shinoda Mariko (24) is getting her own television show on NHK, starting this spring. The show is called "Mariko-sama no Orikou-sama!" (Wednesday nights, 1:05am-1:10am) and will be a collaboration with the documentary show "NHK Special" (Sundays, 9:00pm).
The show will involve Shinoda providing concise explanations for keywords related to the themes of the "NHK Special" episodes, covering common knowledge from economic growth to genetics to the statute of limitations. Using illustrations and videos, she will present the keywords in a simple and entertaining manner, spending only about 30 seconds on each explanation. Viewers will be able to submit explanations for Shinoda's approval through the show's website.
During the press conference for the show held on Wednesday, Shinoda admitted that she has never watched "NHK Special" before, but she expressed her pleasure at now having an opportunity to learn about a wide range of topics that she currently has little knowledge of.
A special program to commemorate the show will air from 1:45am to 1:55am on the night of March 11, and submissions for explanations will be accepted starting on March 12. The show will begin its regular broadcasts on April 6.
Re-runs will air on NHK Educational (Sundays at 11:55pm) and on NHK's 1-seg 2 channel.
Source:
Mantan Web