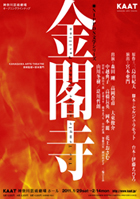 V6 member Morita Go (32) will be performing a play in New York this July. His play "Kinkakuji," directed by Miyamoto Amon, has been invited to the Lincoln Center Festival, which brings together artists and productions from over 50 different countries. "Kinkakuji" will be the only production representing Japan at the festival.
The play is an adaptation of Mishima Yukio's novel of the same name, also known by the English title "The Temple of the Golden Pavilion." It began performances in Yokohama this past January and will finish its nationwide tour on March 13.
During the Lincoln Center Festival, "Kinkakuji" will be performed four times, between July 21 and 24.
More information about the festival can be found on its official website.
Source:
Sankei Sports