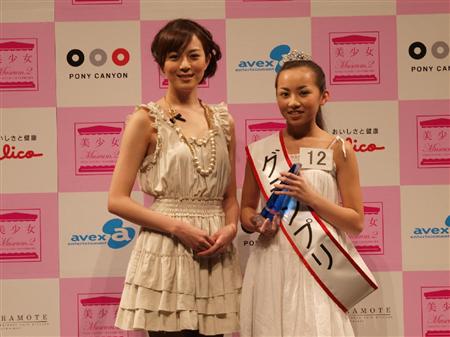 Management agency Vision Factory and magazine Bishojo Zukan finished their second "Bishojo Museum" talent audition on Saturday at Osaka Business Park. Out of a field of about 20,000 applicants, the grand prize winner was 13-year-old Fujiwara Maiya, a second-year middle school student.
Fujiwara, who has an American father, hails from Misawa, Aomori. Although she was affected by the Tohoku earthquake and tsunami, she still decided to continue with the audition. "Despite the earthquake, I want to try my best as a representative of Aomori," she said.
Actress Higa Minami (24) presented the trophy and tiara to Fujiwara. The young winner also received 1 million yen in prize money.
Bishojo Zukan is a free magazine that introduces amateur models, with different local editions for various regions. The magazine began collaborating with Vision Factory last year for the first Bishojo Museum audition.
Source:
Sankei Sports