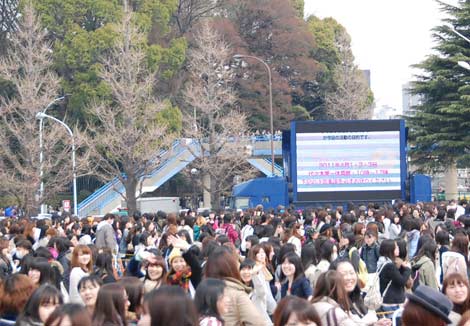 Over the weekend, Johnny's Entertainment held a three-day event at Yoyogi National Gymnasium for its charity project Marching J, raising funds for the areas devastated by the Tohoku earthquake and tsunami last month. The event recorded a total attendance of approximately 389,000 people during the three days, though the number of unique visitors is unknown.
As previously announced, the event was open between 10:00am and 6:00pm on April 1-3. All of the Johnny's and Johnny's Jr. artists were able to participate in some way. It was initially reported that V6 member Inohara Yoshihiko would be unable to attend, but he managed to show up on Saturday before the opening of his stage play. Akanishi Jin, who is currently in the United States, also participated through a video message.
The event included talk sessions and various performances, including an a cappella version of KAT-TUN's new song "PERFECT."
Attendance numbers grew throughout the weekend. On the first day, a Friday, approximately 101,000 people came to the venue. The next day, the crowd grew to 127,000, and on the last day it reached 161,000.
The total amount of the collected donations has not yet been released.