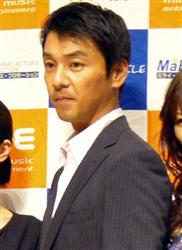 44-year-old actor Tanaka Minoru passed away on Monday afternoon, after being found hanged in his apartment in Ota, Tokyo. Police are investigating the matter, but they say that the likelihood of suicide is high.
At some time after 3:00pm on April 25, he was discovered in his apartment, and a family member called 119. Tanaka was taken to a hospital, where his death was confirmed.
According to Tanaka's manager, who had spoken with him the day before about work, there was nothing unusual about the actor's behavior. His agency, Oscar Promotion, stated that there had been no problems at work, so it was at a loss to explain the reason for Tanaka's death. Meanwhile, a vague entry in Tanaka's blog posted on April 11 suggests that he likely had something weighing on his mind recently.
Born in 1966, Tanaka grew up in Tokyo. After graduation, he joined the acting school Mumeijuku, which is led by actor Nakadai Tatsuya. In 1990, he starred in the television series "Rinrin to," one of the few NHK morning dramas in history to have a male lead.
Tanaka acted in dozens of films and television shows, including the "Onsen e Ikou" series and "Ultraman Mebius." Last December, he changed agencies to Oscar Promotion, and his last television appearance was in the WOWOW drama special "Saisei Kyoryuu" on March 6 of this year.
Sources:
Sankei Sports
Sankei Sports