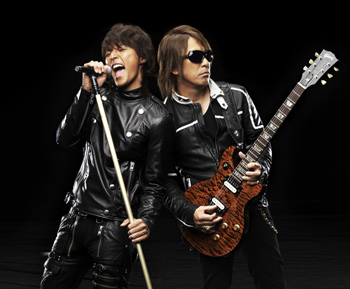 It was announced earlier this month that the new B'z song "Sayonara Kizu Darake no Hibi yo" became their 44th number-one single in Japan, but fans in North America have additional reason to celebrate: the duo will embark on their first North American tour in eight years.
This will be the third North American tour for B'z, though it consists of only three stops. They will start at Vogue Theatre in Vancouver on July 20, then head to The Fillmore in San Francisco on July 22, followed by Club Nokia in Los Angeles on July 24. After that, B'z already has an extensive Japan tour scheduled from September 23 to December 25.
Member Matsumoto Takahiro was at Club Nokia this past February for the 53rd Grammy Awards, where he won Best Pop Instrumental Album for his collaborative album "Take Your Pick" with American guitarist Larry Carlton. Just after that, there were many people asking B'z to do a concert in the United States. As a result, they decided on this short tour.
In addition, B'z has contributed an English version of their song "HOME" to the Download to Donate charity project, which currently offers 23 tracks from various artists for a $10 donation toward earthquake relief efforts. B'z has worked together with some of the artists, including Slash and Linkin Park.
Source:
Barks