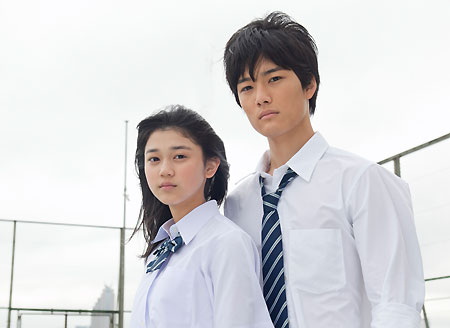 Teen actor Irie Jingi (17) has captured his first lead role in a drama series. He will star in NHK's "Kingyo Club" this summer, with young fashion model Kariya Yuiko (14) as the heroine of the story. This is also Kariya's first time as the female lead of a drama.
"Kingyo Club" was originally a mobile phone novel by author Tachibana Hana, distributed through the site Mahou no iRando. The story received the NHK Award in the iRando Taisho, a set of awards given to works with a lot of support from readers. As a result, NHK decided to adapt it to television, and it held an audition to select the main cast.
Irie plays Hiiragi Haru, a third-year high school student with no real interest in women or higher education, instead choosing to live his life idly. When he notices a first-year student named Harukawa Koto being bullied, he lends her a hand, and the two form a "goldfish club" just for themselves. While love begins to bloom between them, the bullying against Koto continues to escalate.
NHK will begin airing "Kingyo Club" in July, every Saturday night from 11:30pm to 11:59pm. Each of the 10 episodes is expected to last only 20 minutes, followed by a 9-minute live segment presenting messages sent in by viewers.
Source:
Mantan Web