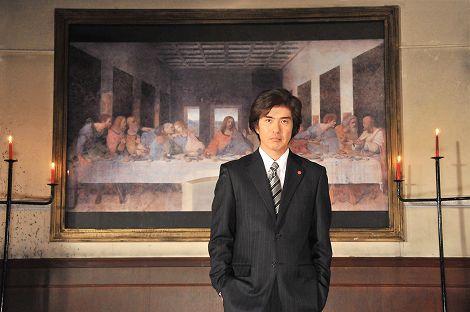 Sato Koichi will star as a police detective in a TV Asahi drama special called "Saigo no Bansan" next month. Described as the "ultimate mystery/suspense story," the cast features seven other well-known names playing the suspects in a difficult case: Narimiya Hiroki, Nishida Toshiyuki, Kuroki Hitomi, Adachi Yumi, Hongo Kanata, Ishiguro Ken, and Nakao Akira.
"Saigo no Bansan" (which means "The Last Supper") is an original work by prolific screenwriter Inoue Yumiko. Most of the story takes place in a restaurant, where 11 invited guests end up involved in an incident. The plot goes beyond just determining the culprit; as each suspect's motive and past is explored, the story touches on matters such as human relationships and the darkness of the human heart.
Sato plays the keen and earnest, though unconventional, detective Toono who investigates the case. The suspects he pursues, who are also full of character, are the owner and chef of the restaurant (Narimiya), a nurse working in an obstetrics and gynecology department (Adachi), a shut-in college student (Hongo), a television news director (Ishiguro), a politician with a dark past (Nakao), a criminal currently on parole (Nishida), and the president of a mass discount retailer who has an unknown past (Kuroki).
"Saigo no Bansan" is scheduled for broadcast on May 14 at 9:00pm.
Source:
Oricon