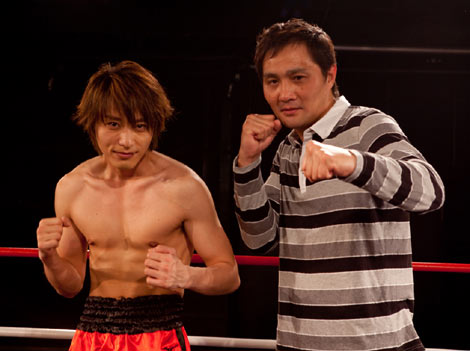 Actor Tokuyama Hidenori (29) is stepping into the ring for a movie adaptation of the boxing manga "Thanatos: Mushikera no Kobushi." The manga, which ran in Shogakukan's Weekly Young Sunday from 2007 until the magazine's end in 2008, has been collected into 8 volumes that have had over 600,000 copies printed.
The manga was illustrated by Ochiai Yusuke with a story drafted by former WBA middleweight champion Takehara Shinji. It tells of a young man named Riku who ekes out a living as support in a gang's fights. One day, he meets his match in the form of a gifted young boxer, leading Riku to also pursue a life in boxing and eventually overcome his painful past.
The press was present at the filming of the climactic fight scene in the ring. Tokuyama showed off his boxing skills, which he partially developed during his high school years. Takehara also attended, presenting a perfect photo op for the two of them.
Riku's rival is being played by Sato Yuki ("Kamen Rider Kabuto"). Other cast members include Taira Airi, Masu Takeshi, Umezawa Tomio, and Shibukawa Kiyohiko. Former boxers Guts Ishimatsu, Wajima Koichi, Leopard Tamakuma, and others will make guest appearances.
Jojo Hideo is directing the movie, which is planned for release this fall.