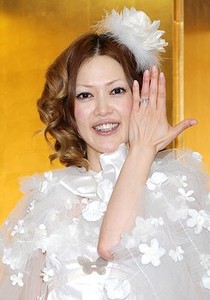 A few celebrity baby reports made the news today. The biggest announcement was that Othello member Matsushima Nahomi (39) is now expecting her first child. According to her agency, she is barely in her fifth week of pregnancy.
Both Matsushima and her comedy partner Nakajima Tomoko (39) were absent from a live broadcast of their show "Shittoko" on April 23rd, due to poor health. Nakajima announced on the 25th that she was taking a short break, but Matsushima was told by her doctor that she needs to rest at least until late May, so she will be on break until her condition becomes more stable.
Normally, Matsushima's pregnancy would not have been announced until closer to her stable period, but due to the impact on her work, the news was revealed today.
Matsushima has been married since June 2008 to Hisada Toshihiro, the vocalist of rock band Marsas Sound Machine.
In a separate announcement, rock singer Diamond Yukai (49) revealed that his wife is expecting to give birth to twins this November. According to a source close to the couple, they learned about the pregnancy at the end of March, just a couple weeks after the Tohoku earthquake.
Yukai, who was once married to actress Miura Rieko (37), got remarried in February 2009. His first child, a daughter, was born in February 2010.
Meanwhile, comedian Tomizawa Takeshi (36) of the duo Sandwichman announced that his wife gave birth to their first son on April 27th. He has been married since April 2009.
Sources:
Sponichi Annex
Sankei Sports
Sankei Sports