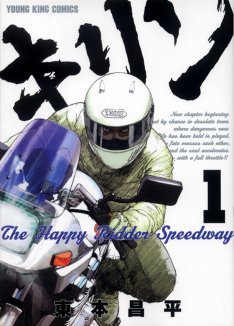 Harumoto Shohei's motorcycle racing manga "Kirin" is being adapted as a live-action movie, directed by Otsuru Gitan ("Maebashi Visual-kei"). The film will star 38-year-old Maki Kurodo, also known by the name Claude Maki and as hip-hop artist AKTION.
The movie will cover the manga's first arc, "POINT OF NO RETURN!," which was originally serialized from 1987 to 1990. The manga told the story of a 38-year-old salaryman named Kirin who is also a street racer. Described as the "motorcycle rider's bible," it was previously deemed impossible to turn into a movie.
"Kirin" is currently expected for release this fall. More details will be revealed in the manga's magazine, Young King.
The manga's current arc, "Kirin: The Happy Ridder Speedway," had its first tankoubon volume released on May 9.
Sources:
Anime News Network
Comic Natalie