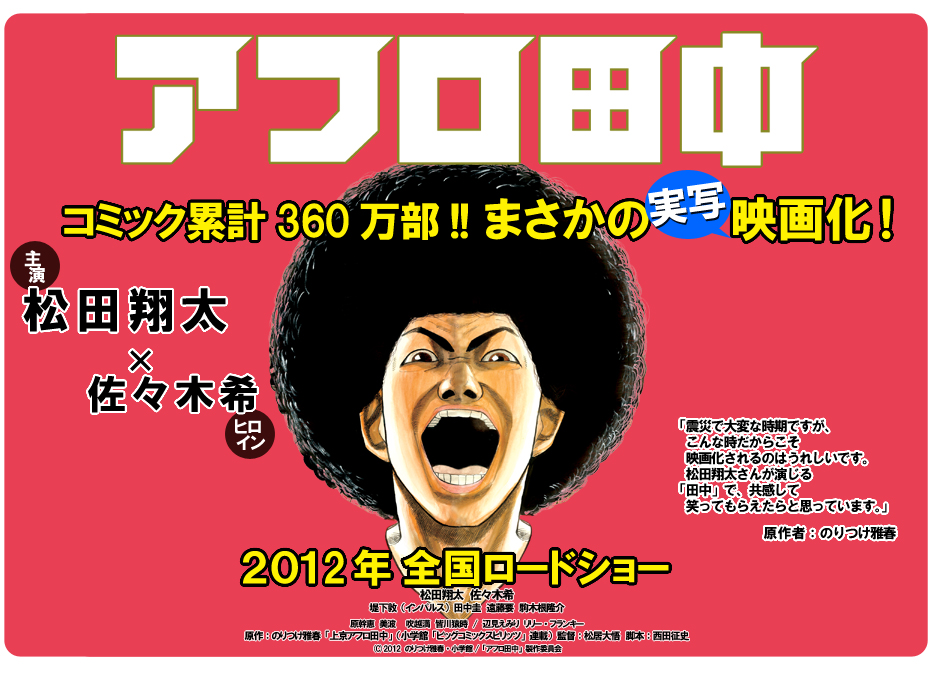 The live-action movie "Afro Tanaka" that was announced last month now has several more names attached to the cast. It was previously revealed that Matsuda Shota and Sasaki Nozomi would be playing the lead parts, and now they are being joined by Tanaka Kei, comedian Tsutsumishita Atsushi (of the duo Impulse), Komakine Ryusuke, Endo Kaname, and others.
The film, based on a comedy manga by Noritsuke Masaharu, tells the story of an afro-haired young man named Tanaka Hiroshi and his daily life with his friends. The four main friends are Okamoto Hajime (Tanaka), Osawa Mikio (Tsutsumishita), Inoue Shinya (Komakine), and Murata Daisuke (Endo).
Several others have been added as well, though their roles have not been announced: Hara Mikie, Minami, Fukikoshi Mitsuru, Minagawa Sarutoki, Henmi Emiri, and Lily Franky.
The movie is being released in 2012.
Sources:
Comic Natalie
Official website