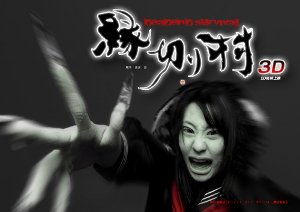 AKB48 member Fujie Reina (17) has her first starring role in a 3D horror movie called "Enkiri-mura: Deadend Survival." Her co-star is actor Yagami Ren (25), also known for being in the "Prince of Tennis" musicals.
The story is set in an underpopulated village on the western edge of the Tokyo prefecture, where pilgrims from all around the country come to visit a shrine known for being able to sever connections with evil. One day, a TV crew arrives from Tokyo, looking to shoot some footage for a show about local cuisine. The producer (Okada Mayuka) has her crew guided around by a young villager (Yagami), but they soon become entangled in a plot by the village elders (including the chief played by Saiki Shigeru). Consequently, a curse involving an evil spirit known as Enkiri-sama (Fujie) results in the crew's members dying one by one.
The rest of the cast includes Ishikawa Ryoma, Takai Maho, Yamamoto Saori, Kawaguchi Takahiro, Okamura Yoichi, Iijima Yukari, Takahashi Aya, Saburo, Kitatani Yuri, Hamada Mitsuo, Isomura Midori, and Kasahara Ryoji.
Tsubaki Koichi is directing the film for an October 2011 release. An official website was launched today.
Sources:
Sponichi Annex
Official website