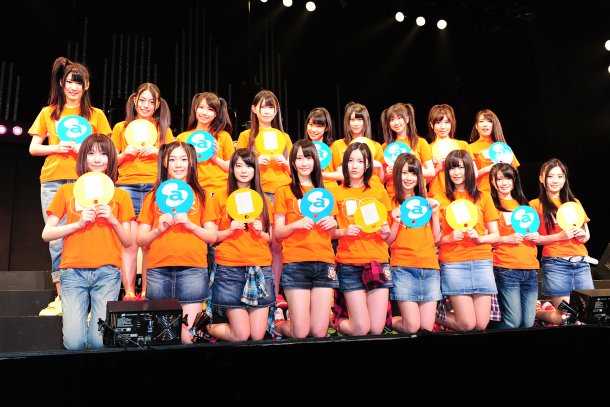 Idol group SKE48 announced on Saturday that they are changing record labels to Avex, and their first single after the move will be titled "Pareo no Emerald," scheduled for a July 27 release (which happens to be the birthday of member Matsui Rena).
The news came just before the encore at Team S's performance in Aichi, as well as Team KII's performance in Tokyo, which was held at the same time on May 28. 18 members of the group also answered questions at a press conference held in the morning.
SKE48 made their debut in 2009 under the label Lantis, and they moved to CROWN GOLD starting with their second single in March 2010. "Pareo no Emerald" will be their sixth single.
AKB48's sub-units French Kiss and DiVA are also signed with Avex. However, SKE48 is the first full group from the AKB48 family to move to that label.
It was previously announced in April that AKB48 and its related groups are performing in this year's a-nation tour. SKE48 is scheduled for the August 13 event in their home of Nagoya, Aichi.
Sources:
Natalie
Barks
Mantan Web
Oricon