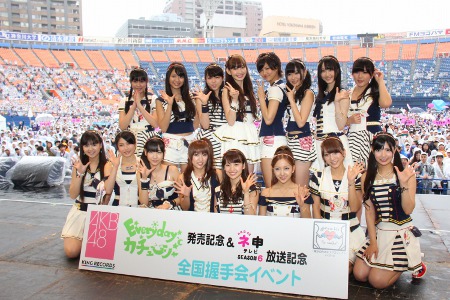 Popular idol group AKB48 will finally perform their first dome concert. At an event on Sunday, they announced that they will hold a total of 5 shows at the Seibu Dome in Saitama on July 22-24.
Since their start in 2005, AKB48's goal has been to hold a concert at Tokyo Dome, so these shows at Seibu Dome are another step building up towards that goal.
It was also announced that the group will hold a nationwide tour for the third year in a row, starting in Fukuoka on August 1 and ending in Kobe on August 30-31, including a show in tsunami-stricken Sendai on August 12. The tour will span 15 concerts in 13 cities.
In addition to these announcements, AKB48 thanked their fans for making their latest single, "Everyday, Kachusha," reach 1 million in sales in its first two days.
Sources:
Oricon
Mantan Web