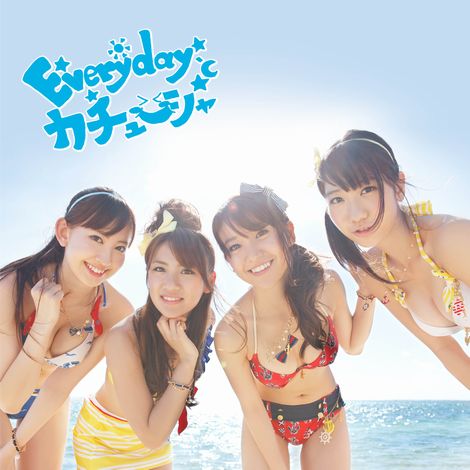 Idol group AKB48 took #1 on the sales charts this week, as they set a new all-time record for highest first-week sales at more than 1.33 million copies. "Everyday, Kachusha" also set the record for highest first-day sales (942,475) and went on to reach the 1 million mark in its second day in stores.
This week's top ten consisted almost entirely of new releases, but one of the more notable ones was "Maru Maru Mori Mori!" at #3. The song was sung by 6-year-old stars Ashida Mana and Suzuki Fuku (and a talking dog) as the theme song for their drama series "Marumo no Okite." At an average age of 6 years old, they are now the youngest group ever to have a Top 10 single. The previous record was 10.5 years old, set by Kigurumi with the song "Tarako Tarako Tarako" in 2006. Counting solo artists, they are tied with Minagawa Osamu, whose "Kuroneko no Tango" topped the charts in 1969.
In albums, the #1 spot went to Lady Gaga's "Born This Way," selling close to 184,000 copies. This is her first time to top the charts in Japan. The last foreign solo artist to have a #1 album was Michael Jackson in 2009.
Lady Gaga – Born This Way – 183,845
capsule – WORLD OF FANTASY – 20,814
Amuro Namie – Checkmate! – 17,597
Hirano Aya – AYA MUSEUM – 14,043
NAOTO INTI RAYMI – ADVENTURE – 12,437
BIGBANG – The Ultimate -International Best- – 12,100
Various Artists – Songs For Japan – 11,872
Jennifer Lopez – Love? – 7,854
Tokunaga Hideaki – VOCALIST & BALLADE BEST – 7,550
In DVDs and Blu-rays, rock band GLAY topped both rankings in the music category, with sales of 17,000 and 19,000, respectively. They are now the 6th male artist to achieve #1 on the music DVD and music BD charts, following in the footsteps of Thee Michelle Gun Elephant, Kobukuro, B'z, Inaba Koshi, and Kanjani8.
Sources:
Oricon (weekly album ranking)
Oricon (weekly single ranking)
Oricon
Oricon
Oricon