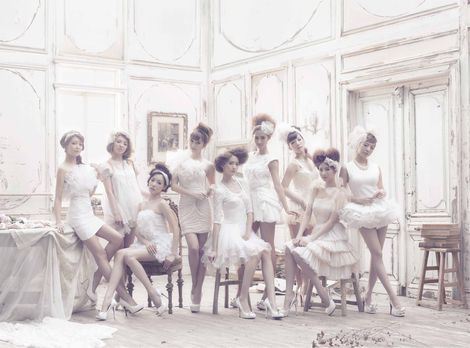 This week's music sales charts saw the rise of Korean girl group Shoujo Jidai, earning their first #1 on the album charts with their Japanese release, "GIRLS' GENERATION." The album sold 231,553 copies in its first week, surpassing BoA's 2002 album "Listen to My Heart" (230,590) for the record of "highest first-week sales for a first album in Japan by a foreign artist."
Among foreign female groups, Shoujo Jidai is only the second in history (after t.A.T.u. in 2003) to have a #1 first album.
Shoujo Jidai – GIRLS' GENERATION – 231,553
UVERworld – LIFE 6 SENSE – 95,235
Sandaime J Soul Brothers – J Soul Brothers – 93,548
Lady Gaga – Born This Way – 64,802
Toyosaki Aki – love your life, love my life – 22,447
Tokunaga Hideaki – VOCALIST & BALLADE BEST – 13,557
Amuro Namie – Checkmate! – 12,377
Matsuda Seiko – Cherish – 11,688
In singles, B'z took the top spot with their 49th single "Don't Wanna Lie." This extends the records they hold for "most #1 singles" and "most consecutive #1 singles," now both at 45.
Mizumori Kaori entered the rankings at 7th with her "Shounai Heiya Kaze no Naka." As a female enka artist, this makes her the new record-holder for "most top 10 singles" (8), and it extends two related records that she already held: "most consecutive top 10 singles" (8) and "most consecutive years with a top 10 single" (8).
Sources:
Oricon (weekly single ranking)
Oricon (weekly album ranking)
Oricon
Oricon
Oricon