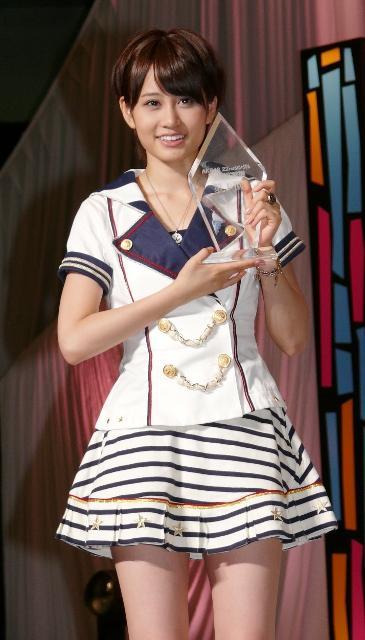 AKB48 held its 3rd Senbatsu election on Thursday, determining the participating members for AKB48's 22nd single. This year, the #1 spot was recaptured by Maeda Atsuko, after being narrowly defeated by Oshima Yuko last year.
As expected, this year's election dwarfed last year's, with a total vote count of more than 1 million votes. The top 40 members received a combined 1.08 million votes, compared to 354,000 for last year's top 40. Maeda beat Oshima by a margin of approximately 17,000 votes – 139,892 to 122,843. In 2010, Oshima surpassed Maeda by less than 600 votes – 31,448 to 30,851.
Kashiwagi Yuki took #3, up five spots from last year. Sashihara Rino climbed 10 spots to #9. Umeda Ayaka and Takayanagi Akane also took big leaps in the rankings, though they fell just short of the cut between the Senbatsu members and the under girls.
150 members were eligible for this year's election, making it highly competitive. Like the last time, the top 12 are appointed as the "Media Senbatsu" (for promoting the new single) and the top 21 will participate on the single's title track. #22 through #40 are the "under girls," who will be included on the single's various B-sides.
The single does not yet have a title, but it is scheduled for release on August 24, 2011.
The complete election rankings are listed below with vote counts. Ranking changes from last year are in parentheses.
This year's election was streamed live to 97 screens in 86 theaters across Japan, as well as 10 screens in Hong Kong, Taiwan, and Korea.
Sources:
Natalie
Eiga.com
Oricon