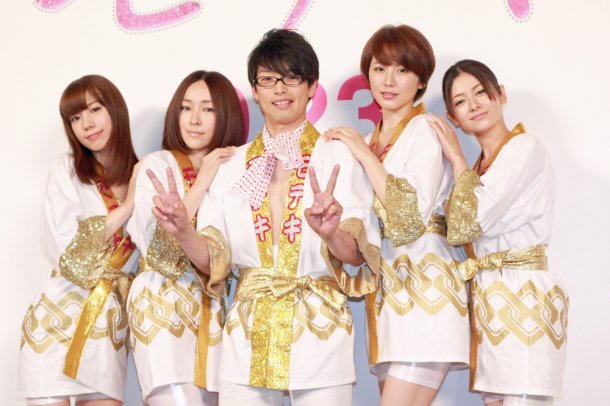 In March, it was revealed that the drama series "Moteki" was getting a movie version with actor Moriyami Mirai again in the lead role, but the main female cast was unknown at the time. A press conference held on Monday unveiled his new co-stars: Nagasawa Masami, Aso Kumiko, Naka Riisa, and Maki Yoko.
Both the drama series and the movie are adaptations of Kubo Mitsuro's romance/comedy manga "Moteki," which tells the story of a man named Fujimoto Yukiyo (Moriyama) who suddenly finds himself very popular with women, something he has never experienced before. In the drama series, the main female characters were played by Nonami Maho, Mitsushima Hikari, Matsumoto Rio, and Kikuchi Rinko.
While the television drama followed the plot of the manga, the movie version is an entirely original story written by Kubo. The protagonist Yukiyo moves on from being a temp worker to writing for a news website, and he soon meets several women who are all interested in him.
Nagasawa plays Miyuki, a magazine editor with a "killer smile" whom Yukiyo meets through Twitter; Aso plays Miyuki's friend Rumiko; Naka plays a girls' bar employee named Ai; and Maki plays Yukiyo's senpai Motoko.
The movie is already set for release on September 23, 2011.
Sources:
Mantan Web
Eiga.com
Natalie