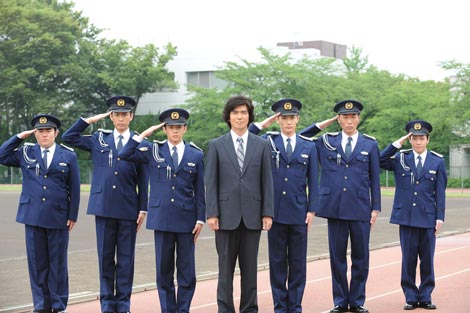 Last month, it was announced that Sato Koichi and Miura Haruma were teaming up for a drama series as a sequel to the drama special "Saigo no Bansan." Today, many more of the cast members were revealed for the show, which has been officially titled "Hi wa Mata Noboru."
As previously announced, Sato is playing a former detective and newly appointed police instructor, while Miura is playing a trainee cop. Maya Miki plays the head of the police school who opposes Sato, YOU plays the school doctor, and Ishino Mako plays the "mama" of a bar near the school. Ikematsu Sosuke has been cast as a top student at the school.
Other new additions include Namioka Kazuki, Takahashi Tsutomu, Minami Keisuke, Tomiura Satoshi, and Kitamura Tomohiko. The returning cast members from the drama special are Saito Yuki, ARATA, Rokkaku Seiji, and Hashizume Isao.
TV Asahi will air "Hi wa Mata Noboru" on Thursdays at 9:00pm, starting in July.
Source:
Oricon